As a student of the University of Groningen you have access to numerous useful online platforms that will help you in your studies. This ICT overview will help you explore these applications, which are explained in a number of tutorials.
Have your s-number ready

You need your s-number (for example s1234567) and the corresponding password. You receive these data in an e-mail when you are enrolled as a student.
NB During your studies, you can retrieve the links to the various tools explained on this page via the front page of Nestor (see step 5).

The nestor front page is your ideal starting point to find study info, news, and useful links. In the course of this academic year a new Student Portal will be launched that will take over this functionality.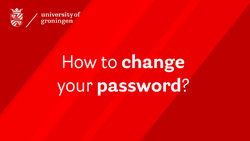 1: Use you studentmail
You will need the combination of your s-number and password many times during your studies. Soon enough, you will know your s-number by heart.

Messages from lecturers and the university will be sent to your student mail. It is important that you check your mailbox regularly, to make sure you don't miss important messages or deadlines. If you want, you can forward all your student mail automatically to your private e-mail address (such as Hotmail or another Gmail address).

► View your webmail
(googleapps.rug.nl)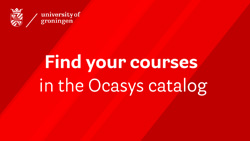 2: Find your courses
The Ocasys website gives all the course information you need. Choose your degree programme and you will get a complete overview of the compulsory courses and electives. Click on a course name and you will get detailed information about a courses, such as lecturer, form of assessment and the required literature.
► Find your courses for semester 1 and 2 (2014-2015)
(www.rug.nl/feb/ocasys)



---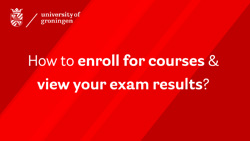 3: Course enrolment & Exam results
You now know which courses to take, but you'll still have to enrol for your courses and exams. Make sure to do this well before the start of the semester (deadline is always 1 week before the start of the half-semester). As soon as you are enrolled for your courses (in ProgRESS), you will be enrolled automatically for the corresponding exam. You can also use ProgRESS to view your exam results and messages from the faculty.
► Enrol for your courses (for semester 1a and 1b)
(progresswww.nl/rug)
4: Generate your schedule
You can generate your schedule on www.rug.nl/feb/schedule. Choose: 2014-2015 | Programmes | Faculty - Economics and Business | then select your programme via the drop down menu.
► Generate your schedule
(www.rug.nl/feb/schedule)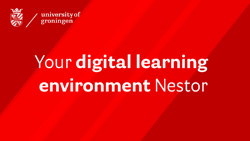 5: Your digital learning environment Nestor
Nestor is your digital learning environment. This is the place where the faculty, lecturers and students communicate with each other in various ways. You find news and announcements, may submit assignments, receive feedback and work together with fellow students. On the front page you will directly find the latest news and announcements of the Faculty. You can log in with your own student account. In case you do not have an s-number yet, you can temporarily log in with a guest account (be-student; be-student).
► View your Nestor environment
(nestor.rug.nl)
5: Work with your documents and university software online
You can access your University Workspace from home by using the citrix receiver at uwp.rug.nl. This enables you to copy your university workspace on your own computer and access your documents and use available software.

During your studies, you will need many different programmes, such as Microsoft or Adobe applications. The University of Groningen has bought many licenses for these kind of programmes, so that students can use these for free from university computers. But you can also use these licenses at home. www.surfspot.nl offers software packages at reduces prices.
---

Extra information

Connect your laptop to the wireless network
Within the RUG buildings you can access the wireless network of Eduroam . This makes it possible to access the internet on your own laptop, mobile phone or tablet.
Log in anywhere in the University of Groningen
Logging in with your s-number is possible throughout all buildings of the University of Groningen. This way you can also study in the University Library, for example.

Study guide and Teaching and Examination Regulations (OER)
All regulation applicable to the university and your degree programme are available on the My University for students infonet (login). This dashboard and portal also offers other information about your study and facilities.
The study guide and regulations guide are also available on the FEB website
| | |
| --- | --- |
| Last modified: | 25 January 2018 11.02 a.m. |