ICT systems - introduction for new students
---
Welcome! Both during and before your studies you have to undertake a few steps in order to follow courses. On this page, you can find a useful overview, with video tutorials. Good luck!
---
START

Have your student number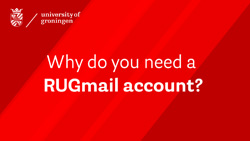 ---
Step 1: Bookmark the Student Portal, your gateway to all information

<<STILL>>

Student Portal | Personalised acces to to all your relevant study information
1. Open your student mail
Messages from your teachers or the University of Groningen are sent to your Google studentmail. Therefore it is important that you check this account regularly, otherwise you will perhaps miss important announcements or deadlines. It is also possible to link your Google studentmail to your private email address, so that all the e-mails will be forwarded. This way you can be sure not to miss any important messages from the RUG.
To forward your RUG-mail to your personal mail, go to settings in the upper right corner of your RUG-mailbox, choose 'Settings' and go to 'Forwarding and POP/IMAP'. There you can enter the email address you want your RUG-mail to be forwarded to.
► Check your studentmail
(googleapps.rug.nl)
You need your s-number and password a lot during your study. Therefore, you need to know these by heart.
---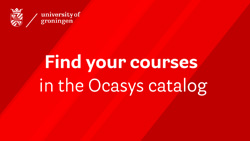 2: Find your courses
The Ocasys website gives all the course information you need. Choose your degree programme and you will get a complete overview of the compulsory courses and electives. Click on a course name and you will get detailed information about a course, such as lecturer, form of assessment and the required literature.
► Find your courses for semester 1 and 2
(www.rug.nl/ocasys/feb)
---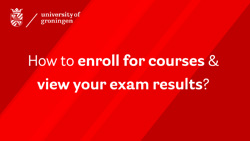 3: Course enrolment & Exam results
You now know which courses to take, but you'll still have to enrol for your courses and exams. Make sure to do this well before the start of the semester (deadline is always 1 week before the start of the half-semester). As soon as you are enrolled for your courses (in ProgRESS), you will be enrolled automatically for the corresponding exam. You can also use ProgRESS to view your exam results and messages from the faculty.
► Enrol for your courses (for semester 1a and 1b)
(progresswww.nl/rug)
4: Generate your schedule
This tutorial tells you how to generate your schedule. To generate your complete schedule it is necessary to know your group number. It's possible you have not received this yet, but will receive this later during the Faculty First Week.
► View your schedule
(www.rug.nl/feb/schedule)
---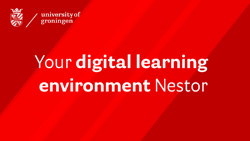 5: Your digital learning environment Nestor
Your digital learning environment Nestor is integrated in the Student Portal. This is the place where lecturers and students communicate with each other in various ways. You may submit assignments, receive feedback and work together with fellow students. On the front page you will directly find the latest news and announcements of the Faculty. You can log in with your own student account. I

► View your digital learning environment Nestor

6: Work with your documents and university software online
You can access your University Workspace from home by using the citrix receiver at uwp.rug.nl. This enables you to copy your university workspace on your own computer and access your documents and use available software.

During your studies, you will need many different programmes, such as Microsoft or Adobe applications. The University of Groningen has bought many licenses for these kind of programmes, so that students can use these for free from university computers. But you can also use these licenses at home. www.surfspot.nl offers software packages at reduces prices..
---

7: Connect your laptop to the wireless network
Within the RUG buildings you can access the wireless network of Eduroam . This makes it possible to access the internet on your own laptop, mobile phone or tablet. (common settings are: PEAP, MSCHAPV2, s1234567@rug.nl, your RUG password).


---
---
Step 3: Check detailed info about your upcoming courses via Ocasys
| | |
| --- | --- |
| Last modified: | 25 January 2018 11.08 a.m. |