Student life in Groningen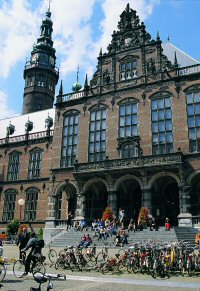 For four centuries the University has been a visible presence in the city of Groningen. The heart of this historic city is home to many university institutes, departments and offices. Moreover, student accommodation can be found almost everywhere in the characteristic lanes and alleyways of the inner city. Expansion has meant that some faculties, among others, the faculties of Economics and Management & Organization have moved to more spacious accommodation in the modern Zernike Area to the north of the town centre.
Next to Dutch, English is the second languague in town (and pretty much across the country), and is spoken by most people inside and outside the university. English is the standard first language in the IE&B department – of which one third of the staff is foreign as well –, and the Faculty and University provide all information to students and staff in both Dutch and English.
Another remarkable characteristic of the city of Groningen is the youthful population: every fourth person in the city is a student, and over half of the citizens are younger than thirty-five! This has produced a wide choice of facilities for just about every taste in sport, culture and recreation at reasonable prices. The University Sports Club offers top-of-the-range sport facilities, ranging from aerobics and a fully equipped gymnasium to sailing and outdoor sports.
The university cultural centre (USVA) organizes courses and workshops in dance, drama, creative writing, photography and video production. USVA also stages regular exhibitions, discussion evenings and film screenings. Needless to say, international students are strongly encouraged to join in these activities.
The weather in Groningen is mild in Winter (0-10 ˚ C) with moderate rain and pleasant in Summer (between 20-30 ˚ ).
| | |
| --- | --- |
| Last modified: | 20 November 2012 7.42 p.m. |