How to spend your vacation during Covid19?
This past summer, during the covid-19 pandemic, our vacation might not have been what we planned for. You may have chosen a different destination or even opted to stay home. Now that we are looking forward to planning our summer vacation 2021, with the possibility of going abroad again, associate professor Jessica de Bloom talks about the importance of taking a break from work, where and how you should spend it. Does our vacation and how we spend it influence our mental work health once we are back to work?
A weekend away or a weekend at home, does it make much of a difference?
"Some years ago, along with other researchers, I have done research that looked specifically into this question.We investigated whether employees behave, think, and feel differently during travel than during leisure time spent at home. We followed 24 employees for 5 weeks during free evenings after work, a free weekend at home, and on a free weekend of domestic travel.
While being away for a weekend, employees slept more, engaged more in physical and social activities and less in obligatory activities than during free evenings after work. Going for a hike, visiting a museum, meeting new people or attending a wine tasting are more likely to happen during a weekend away than when you stay at home. Travel may provide quite literally a distance from work and everyday hassles. You do not have to take care of the laundry, at least not until you are back home.
During a weekend at home, people engaged in different kind of activities such as hobbies and sports, but also ruminated a bit more about work. Despite giving their work a bit more thought, there were no major differences in experiences of pleasure and well-being compared to the employees who went away for the weekend.
Compared to a weekend spent at home, a weekend away seems to be a more natural opportunity to engage in resource-providing, preferred activities (e.g. social activities) rather than resource-consuming, non-preferred activities (e.g. work-related activities, household chores). It also seems easier not to worry about work when physically away from home. A remarkable result of this and earlier research is that the distance itself is not important. So, going to London is not necessarily better for you than spending the weekend in Utrecht."
With Easter and May vacations coming up and travel restrictions still in place, what can employees do, if they spend their vacation at home?
"First of all, do not skip this time off just because you might not be able to go away. Like sleep, regular leisure time is important to keep your health and well-being up, especially after another rather stressful period of a possible second wave of the virus. Then, you can use the DRAMMA model for a successful staycation.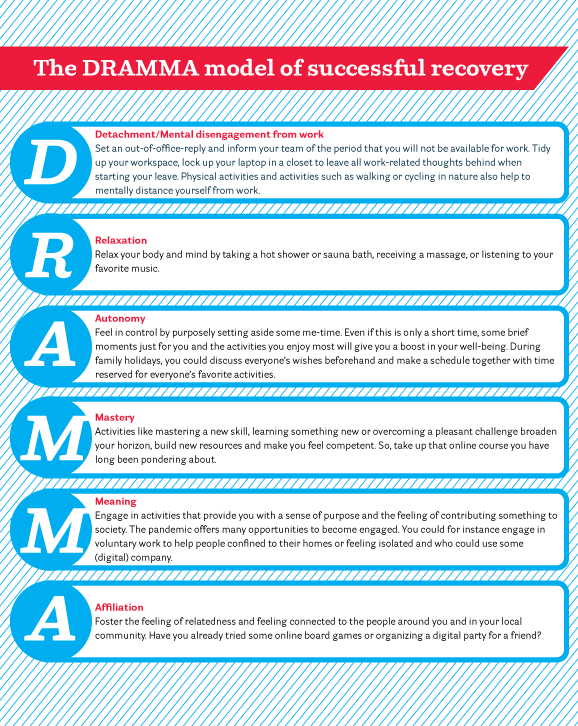 Research has shown that there are 6 ingredients which help people recover from stressful times. Integrating these in your leisure time can help you to make the most of your free time and recharge your batteries."
Will covid-19 change the way we look at vacations?
"Spending some time away from your home is an excellent opportunity to recover from work. Traveling and spending time in a different surrounding supports many of the DRAMMA experiences, particularly, mental disengagement from work. This mental detachment is both beneficial to the employees' well-being but also for maintaining high levels of work performances. However, a growing world population and a doubling of tourism resource use (e.g. water, energy, food, emissions), force us to reexamine our current tourism practices.
A staycation or holidays close to home may provide us with opportunities to reduce the negative impact of tourism consumption. Distance is considered an essential element of tourism. But, we as tourists perceive distance in terms of travel costs, time and the novelty/familiarity of a destination. Accordingly, looking for new experiences, using slower, sustainable modes of transportation (e.g. train, bicycle) and immersing ourselves in unfamiliar cultural environments may provide us with a sense of being far away while we may actually be physically close to home."