Course info
Target group
This course is designed for people working in primary education, secondary education, vocational education or higher education. People who study or have a degree in social, pedagogical or educational sciences. People who make policy or develop curriculum. And others who are interested in critical thinking.
It is expected that the participants have a sufficient command of the English language to actively participate in the discussions and to present their own work in English.
Workload
The workload is estimated at 45 hours:
Contact hours: 6 hours a day
Preparatory reading: 10-15 hours
Presentation: a short presentation or pitch about critical thinking on 28th of June.
NB Participants should bring their own devices.
Upon successful completion of the programme, the Summer School offers a Certificate of Attendance that mentions the workload of 45 hours (28 hours corresponds to 1 ECTS). Students can apply for recognition of these credits to the relevant authorities in their home institutions, therefore the final decision on awarding credits is at the discretion of their home institutions. We will be happy to provide any necessary information that might be requested in addition to the certificate of attendance.
Programme
The summer school will start on Sunday 23 June at 3PM with a city tour followed by welcoming drinks. The educational programme will start on Monday 24 June, 9AM, and will end on Friday 28 June, 5PM.
The programme will include:
Critical thinking and education - presentation by Harvey Siegel
Argument mapping - presentation by Michael Hoffmann
Methods of investigating critical thinking skills - workshop by Laurence Guérin
How to stimulate critical thinking with reflection on social media - workshop by Elke Müller
How to use art to stimulate critical thinking - presentation by Piet van der Ploeg
How to motivate students who don't have affinity with art - workshop by Daan van Riet
Critical thinking and its controversies - presentation by David Hitchcock
Teaching critical thinking skills through inquiry: justification and pedagogical approaches - presentation by Sharon Bailin
As participant of the summerschool, you are able to follow the keynotes of the conference Reason to Dissent. The keynotes are taking place at 5.30 p.m. on Monday, Tuesday and Wednesday:
Confirmed speakers at the conference are:
Deanna Kuhn – Critical thinking as discourse
Jason Stanley – [Title TBA]
Ruth Amossy – Revisiting Apologie de la polémique: about some "felicity conditions" allowing for coexistence in dissent
Katie Atkinson – Dissent needed: argumentation for AI and law applications.
More information can be found on the conference website.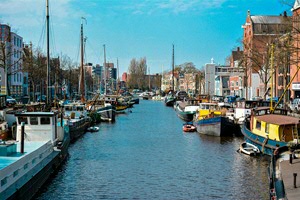 Fees
The fee (€ 305) includes:
Participation in the programme
5 lunches
city tour + welcoming drinks
one dinner (26 June)
Applicants need to arrange their own accommodation. For a list of options, kindly contact the coordinators.
Application procedure
To apply, kindly fill out the online application form. Please submit the following documents with your application:
CV (max. 2 pages)
Motivation letter (max. 1 page)
The deadline for application is 19 May 2019. Applications will be reviewed on a rolling basis. Please note that registration might close early if we have reached our maximum number of participants.
Contact
For questions about the summer school, kindly contact the coordinators at criticalthinking2018@rug.nl.
Summer School & The University of Groningen
The summer school is linked to the Master Ethics of Education.
In education, upbringing and youth care there are a number of different interests to consider. These interests, of the children, their parents, the groups to which they belong (e.g. religious or ethnic minorities), and the interests of society are often difficult to define and they can often be at odds with each other.
Educational professionals need to have the competences to analyse and discuss moral,legal and policy-related issues. Some of them need to be extra-proficient in this area in order to be able to advise other professionals, managers, policy makers, politicians, and governments. The Ethics of Education Master's course provides the right learning environment to enable you to develop this extra expertise. You will acquire the relevant competences and learn to apply these in the professional contexts of research, policy making and consultancy.
In the Master track Ethics of Education you learn to analyse moral issues and discussions in order to design policies and procedures and to take decisions.
| | |
| --- | --- |
| Last modified: | 06 May 2019 12.00 p.m. |