Critical Theory in Philosophy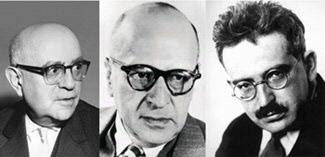 This summer school will cover central philosophical themes addressed by the Frankfurt School of Critical Theory. Frankfurt School Critical Theory is a branch of social and cultural philosophy that has a longstanding and prominent reputation in engaging with social critique and reflection on sources of societal resilience. Our focus will lie on its classic texts as well as a selection of work by its leading present-day representatives.
Critical theory aims to develop a philosophical understanding and evaluation of societal conflicts and contradictions. It maintains an interdisciplinary research programme, in methodological and thematic respects . It engages not only with classic philosophy but also with the social sciences, psychoanalysis and aesthetics. It combines rigorous social analytics with normative goals. It aspires to expose and understand the sources of social suffering.
From its start almost a century ago, it has supplied deep insights into the links between knowledge, culture and economy, as well as original reflections on philosophical method. In this summer school we will examine classic questions of critical theory – centred on for instance ideology, power, rationality and critique – and their relevance for understanding conflict and crisis in present-day societies.
The summer school will feature lectures by distinguished researchers in contemporary critical theory, discussing their ongoing research projects, and roundtable workshops on selected classic texts as well as discussions of student papers. You will get acquainted with the social-philosophical methodology of critical theory and its analytical approaches of politics and culture, specifically its studies of political and social crisis, ideology, mass culture, and aesthetics. Our discussions aim at inspiring new insights with social relevance. Critical theory's interdisciplinary engagement with philosophy will allow you to develop fresh research angles.
Each day a keynote lecture will be held by an expert in the field. Next, seminars will be held for discussions of key texts and the keynote lectures. Participants are invited to present their own work; separate seminars will be organised for discussing their papers. The summer school aims at generating discussions among researchers at various career stages.
It won't be all work, no play, of course. You will have enough opportunity for socialising, and for exploring the city of Groningen, which boasts a historical urban centre and many cultural attractions, among which cinemas, theatres, cafes, music, museums. We will offer at least one suitable group excursion.
Dates
23 - 27 July 2018
CALL CLOSED
Location
Groningen, the Netherlands
Fees
BA/MA students:

€

170
PhD students:

€

200
Level
BA/MA/PhD
Coordinators
Dr. Titus Stahl, Faculty of Philosophy
Dr. Judith Vega, Faculty of Philosophy
| | |
| --- | --- |
| Last modified: | 02 October 2018 1.06 p.m. |