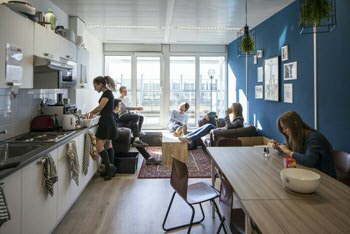 International Student Housing in Groningen
The University of Groningen does not have a university campus. Instead, our buildings and faculties can be found throughout the city of Groningen. To accommodate international students, we work closely together with the SSH, a non-profit housing organisation that offers furnished accommodation in Groningen for (international) students in one of our International Student Houses.
These houses are located throughout the city of Groningen, which makes it a great experience to live in the city! The buildings are within walking distance of the city centre and the summer school venue.
About the rooms
All rooms in the International Student Houses are fully furnished and have Wi-Fi. Each student will have a private room, but the living room/kitchen, bathroom and toilets are shared (mixed). The living room offers you a place to have dinner with your housemates or to play a (board) game.
Meals
The kitchens are fully equipped with electric stoves, ovens, fridges, freezers, a microwave, water boiler, toaster, and of course pots and pans. Please note that food (breakfast, lunch, dinner) is not included unless otherwise specified by your summer school. You should count on spending approximately €15-20 per day on meals, snacks, coffee/tea and/or other refreshments.
Please note that the international student houses are not hotel-quality accommodation. If you prefer to stay in another accommodation, please make use of one of the many hotels in Groningen.
Many of our July and August summer schools offer housing to those participants who need accommodation. The service is optional, please indicate on your online application form if you want to have accommodation arranged for you. If you agree to have housing arranged for you, you will be offered a standard package with the following conditions:
Standard rental from Saturday 2PM to Saturday 10AM.
Standard rent price for one week: € 245 (7 nights). This includes cleaning, bed package, basic kitchen utensils and a practical welcoming package.
Check-in is available on Saturday between 2PM and 8PM. If you arrive later, please contact your summer school coordinator as soon as possible, so arrangements can be made to welcome you.
Cancellation policy:

Participants who cancel their accommodation booking more than 3 weeks before the start of the Summer School are liable to pay 10% of the accommodation fee. Participants who cancel within 3 weeks before the start of the summer school are liable to pay the full amount.
Arrange your own housing
Of course you can still decide to arrange your own housing. There are various opportunities, ranging from low-budget youth hostels to bed and breakfasts and (high-end) hotels. The university also has its own hotel: the University Hotel.
Please do keep in mind that Groningen is a popular student town, and that housing is scarce and expensive as a result of an ever growing student population. In addition, there is the risk of higher hotel rates because of the holiday season in summer time
| | |
| --- | --- |
| Laatst gewijzigd: | 05 januari 2018 13:28 |