Constructing Human Rights Narratives
Unfortunately, as we currently do not know how the coronavirus will progress globally in the coming months, we have made the difficult decision to cancel the University of Groningen Summer Schools 2020. We apologize for any inconvenience this exceptional situation may cause. Hopefully we will see you next year instead. Stay safe and healthy!
---
We are talking about human rights in so many voices, using so many intonations, and acting in so many roles. A lawyer, a journalist, a character from the novel you are reading today, your neighbour complaining about a low salary—all of these are participating in shaping human rights narratives. Different manners of contemplating and picturing human rights (law, politics, literature, arts, etc.) interact and the narratives often conflict with one another. How do all such narratives contribute to the promotion of respect for human rights? Do we have any shared language in our attempts to communicate about human rights?
Our summer school offers you an opportunity to reflect on these issues by looking at different aspects of human rights narration. Narratives are a powerful tool for organising and making sense of human experience which we can use for both strengthening and weakening human rights ideas. What are the ways of using this tool? What does the law have to offer in this sense? After all, it is the law that makes strong claims for being the main creator of human rights narratives. Can other cultural representations of human rights unpack and analyse limitations of the law?
Within the summer school we will look at narrative not only as at an instrument for shaping our experience, but also as an instrument for self-reflection, as a revealing mirror. By examination of the already existing narrative structures we can comprehend better our rooted way of thinking, our biases and limits.
Our speakers, who are specialists in literary studies, narrative studies, human rights, Law and Literature studies, criminal law and criminology, will bring you through different topics, such as:
Human rights in Law and Narrative studies
Narrative as a tool of empowerment: vulnerable people's cases
The ECtHR narrative about freedom of expression and boundaries of literature
Human rights: a contemporary straitjacket for humour and satire?
Human rights and literary genres: the interwoven stories of social changes
Human rights in films: narration without the narrator?
The programme of the summer school is intended for students, PhD's, postdocs, and practitioners in literature, law, arts, and human rights. We invite you to join us in the beautiful city of Groningen, in the North of the Netherlands, to breathe in a bit of a fresh air in the middle of summer and spend a week exploring stories of human rights and marvellous places of our city.
Practical information
Unfortunately, as we currently do not know how the coronavirus will progress globally in the coming months, we have made the difficult decision to cancel the University of Groningen Summer Schools 2020. Hopefully we will see you next year instead. Stay safe and healthy!
Dates & location
July 2021 (tbc), Groningen, the Netherlands
Level

LL.M/MA/PhD/Postdocs/Practitioners

Fees
Including: 5 lunches, coffee/tea, welcoming drinks, city tour, closing dinner, one excursion, printed hand-outs

University of Groningen students and staff: €250
MA/LL.M students: €350
PhD researchers: €400
Postdocs and practitioners: € 500

Early bird discount of €50 for applications before 1 March 2020
Academic coordinators

Mr. Kostiantyn Gorobets (Faculty of Law)
Ms. Yuliia Khyzhniak (Faculty of Law)
Advisor : Prof. Dr. Pablo Valdivia Martin (Faculty of Arts)

Contact

lawandliterature rug.nl
Requirements
The course is designed for students, PhD's, postdocs, and practitioners in literature, law, arts, and human rights.

It is expected that the participants have a sufficient command of the English language to actively participate in the discussions and to present their own work in English.
Learning outcomes
After a successful completion of the Summer School, the participant will be able to:
construct human rights narratives using the methodologies of Law and Humanities;

discuss the multidimensional character of human rights as reflected in law, literature, and arts;

argue the function of narratives in shaping human rights and social change;

assess the legal boundaries of human rights.

Participants who attend all sessions and who present a research proposal or paper on Friday will receive a certificate of participation signed by the coordinators of the summer school. Upon request the certificate can mention the workload in hours. Students can apply for recognition of these credits to the relevant authorities in their home institutions, therefore the final decision on awarding credits is at the discretion of their home institutions. We will be happy to provide any necessary information that might be requested in addition to the certificate of attendance.
Lecturers
Flora Di Donato
Associate Professor of Philosophy of Law and of Clinical Legal Education at the University of Naples Federico II
Flora Di Donato has been a lecturer, a research fellow and a visiting scolar in several Italian, Swiss and USA universities. Her contributions to fact-finding, lawyer-client relationships, narrative analysis and, more generally speaking, the analysis of the law from a bottom-up perspective have made her a pioneer in translating and in further developing some aspects of contemporary legal education — in particular the clinical law approach — from the U.S. context to that of Europe and Switzerland. In 2010, she was awarded the Annual RCSL Adam Podgórecki (ISA) Prize for the book La costruzione giudiziaria del fatto. Il ruolo della narrazione nel processo (Milan, 2008). By using storytelling as a technique for legal analysis, she is engaged in promoting justice for vulnerable people making public audiences sensitive toward their stories. For more details visit the institutional link: https://www.docenti.unina.it/flora.didonato
Selected publications
Di Donato, Flora. 2019. The Analysis of Legal Cases: A Narrative Approach. Abingdon: Routledge.
Di Donato, Flora. 2015. "Making in-Justices Visible. The Blindness of Bureaucracy." In Visiocracy. Images and form of Law. Special issue of Teoria e critica della regolazione sociale, edited by Paolo Heritier, 57–77. Milan: Mimesis.
Di Donato, Flora. 2011. "Constructing Legal Narratives. Client-Lawyer Stories." In Exploring Courtroom Discourse: The Language of Power and Control, edited by Anne Wagner and Le Cheng, 111–31. Surrey: Ashgate.
---
Jeanne Gaakeer
Professor at the Erasmus University Rotterdam
Jeanne Gaakeer obtained her Master's degree in English and American Literature at the University of Utrecht. She received her Law Master's, Master's in Philosophy, and PhD from Erasmus University Rotterdam. Since then, she has become an Endowed Professor of Jurisprudence in Law, Language, and Literature, as well as a Full Professor of Jurisprudence in Hermeneutical and Narrative Foundations at Erasmus University Rotterdam. In 2013, she was awarded the J.B. White Award by the Association for the Study of Law, Culture and Humanities, in recognition for the originality and excellence of her contribution to Law, Culture and Humanities studies. She is one of the co-founders of the European Network for Law and Literature. Her main research interests are in Law and Literature, Law and Humanities and narrative jurisprudence. Professor Gaakeer is also a Senior Justice in the criminal law section of the Appellate Court of The Hague, the Netherlands.
Selected publications
Gaakeer, A.M.P. 2019. Judging from Experience. Law, Praxis, Humanities. Edinburgh: Edinburgh University Press.
Gaakeer, A.M.P. 2018. "Reality, Veracity and Probability in Law and Literature." In Le droit malgré tout, hommage à François Ost, edited by Yves Cartuyvels et alia, 559–86. Brussel: Presses de l'Université Saint-Louis.
Gaakeer, A.M.P. 2018. "Fuss about a Footnote, or the Struggle for (the) Law in German Legal Theory." In As You Law it — Negotiating Shakespeare (Law and Literature, 15), edited by Daniela Carpi & François Ost, 155–81. Berlijn: De Gruyter.
Gaakeer, A.M.P. 2017. "The Judge's Perplexity is the Scholar's Opportunity." German Law Journal 18 (2): 332–62.
Gaakeer, A.M.P. 2013. "The Literary Judge: A Dutch Experience." ISLL Papers (The Online Collection of the Italian Society for Law and Literature) 6: 1–18.
---
Alberto Godioli
Senior Lecturer in European Culture and Literature at the University of Groningen
Alberto Godioli is a programme director of the Netherlands Research School for Literary Studies (OSL). He obtained his PhD in 2012 from the Scuola Normale Superiore of Pisa; from 2013 to 2015, he was a Newton International Fellow at the University of Edinburgh. He has published extensively on humor and satire across media, and he is the Principal Investigator of the research project 'Cartoons in Court: Towards a Forensic Analysis of Visual Humor' (Network of European Institutes for Advanced Study, 2020–2023).
Selected publications
Godioli, Alberto, and Pedrazzini, Ana. 2019. "Falling Stars and Sinking Ships: Framing and Metaphor in Cartoons about Brexit." Journal of European Studies 49(3–4): 302–323.
Godioli, A

lberto.

2018.

"

From Geography to Narratology, and Back: Ryan, Foote and Azaryahu's Narrating Space / Spatializing Narrative.

"

DIEGESIS: Interdisciplinary E-Journal for Narrative Research 7(1)

:

94

–

99.
Godioli, A

lberto.

2017.

"

A

N

ew

C

ase,

O

ne that

M

y

L

awyer

W

ill

H

ave to

H

andle! From Dostoevsky's 'Crocodile' to Pirandello's 'La Giara'.

"

Incontri. Rivista europea di studi italiani 32(2)

:

59

–

68.
---
Kostiantyn Gorobets
PhD Student of the Department of Transboundary Legal Studies at the University of Groningen
Kostiantyn Gorobets obtained his first PhD in 2012 from the Odesa Law Academy (Ukraine) ; from 2013 to 201 6 , he worked as an assistant professor and lecturer at the same university . He has published extensively on legal philosophy and theory of law . His current research project combines legal philosophy and theory of international law.
Selected publications
Gorobets, Kostiantyn. 2020. "Unity of International Law: Exercise in Metaphorical Thinking." Legal Philosophy and General Theory of Law 2 (forthcoming).

Gorobets, Kostiantyn

. 20

20

. "

Practical Reasoning and Interpretation of Customary International Law

." In

The Theory and Philosophy of Customary International Law and its Interpretation

, edited by Panos Merkouris and Jörg Kammerhofer. New York: Cambridge University Press (forthcoming).
---
Antenor Hallo de Wolf
Assistant Professor of International Law and International Human Rights Law at University of Groningen
Antenor Hallo de Wolf obtained his law degree at Maastricht University, where he also later completed his PhD on the topic of privatization of state functions and services and human rights. Between 2006 and 2009, Antenor worked on a postdoctoral research project at the University of Bristol on the topic of torture prevention and the implementation of the Optional Protocol to the UN Convention Against Torture. After moving to the University of Groningen, Antenor was involved in organizing a series of seminars on the topic of socio-economic human rights in the provision of essential public services. This resulted in a publication of an edited book on the matter together with Marlies Hesselman and Brigit Toebes. His main research interests are international law, international law of human rights law, the use of force under international law, privatization and human rights, non-state actors in international and human rights law, the prevention of torture, and the implementation of international law through mandatory national mechanisms. Antenor plays drums in a band and is a major movie buff.
Selected publications
Hallo de Wolf,

Antenor,

and Toebes, Brigit. 2016. "Assessing Private Sector Involvement in Health Care and Universal Health Coverage in Light of the Right to Health." Health and Human Rights 18 (2): 79–92.

Hallo de Wolf, A

ntenor. 2013. "Human Rights and the Regulation of Privatized Essential Services." Netherlands International Law Review 60 (2): 165–204.
Hallo de Wolf, Antenor. 2011. Reconciling Privatization with Human Rights (School of Human Rights research series; Vol. 49). Antwerpen: Intersentia.
---
Frans-Willem Korsten
Frans-Willem Korsten holds the chair by special appointment 'Literature and society' at the Erasmus School of History, Culture and Communication, and is associate professor at LUCAS: the Leiden University Centre for the Arts in Society. He published monographs on the Dutch baroque, theatricality and sovereignty, and published extensively on the relation between literature, art, capitalism and law. He was responsible for the NWO internationalization program 'Precarity and Post-Autonomia: The Global Heritage', together with Joost de Bloois (University of Amsterdam). With colleagues from the Universities of Gent and Brussel and the Free University of Amsterdam he runs a program funded by NWO/FWO under the acronym ITEMP: Imagineering Techniques in the Early Modern Period — a program that focuses on theatrical representations of violence. Together with Yasco Horsman (Leiden University) he is currently working on justice and the role of literature and art at the limits of the law under the umbrella of CALL—the Centre for Art, Literature and Law. One project he focuses on is how in art and literature the implications are explored for our conceptualisation of justice through an ethics of becoming.
Selected publications
Korsten,

Frans-Willem. 2017. "Theatrical Torture versus Dramatic Cruelty: Subjection through Representation or Praxis." In The Hurt(ful) Body. Performing and Beholding Pain, 1600-1800, edited by Tomas Macsotay, Cornelis Van Der Haven, Karel Vanhaesebrouck, 223–47. Manchester: Manchester University Press.

Korsten,

Frans-Willem.2016. "Poet/healer/judge: Literature as cicatrix — the case of Maria Dermoût." In Illness and Literature in the Low Countries: From the Middle Ages until the 21st Century, edited by Jaap Grave, Rick Honings, Bettina Noak, 181–98. Göttingen: V&R Unipres.
Korsten, Frans-Willem. 2011. "Facing It: Sovereignty and How to Live with Theft and Violence in the Law — the Case of Karel ende Elegast." Journal of Dutch Literature 1 (2): 57–78.
---
Marielle Matthee
Guest Lecturer at Centre for Linguistics (Leiden University)
Dr. Marielle Matthee obtained her Bachelor of Arts in English language and Culture from the Leiden University. In 2014–2015, she studied English literature, creative writing, and poetry at the University of Liverpool. In 2007, she defended her PhD thesis in international law. She holds a Master Degree in environmental law, obtained at Paris I (Panthéon-Sorbonne) in 1998. Her fields of interest include Law as Literature, International (environmental) Law, Literature and Imagination, Argumentation, and Rhetoric.
Selected publications
Matthee, Marielle. 2018.

"

Dialoog als open ruimte: A Midsummer Night

'

s Dream

"

in Het empathisch supplement in recht en literatuur, edited by Claudia Bouteligier and Timo Slootweg. Apeldoorn/Antwerpen: Garant/Maklu.
Munin, Nellie, and Matthee, Marielle. 2018. "The Future of the EU: Rhetoric in Service of the Commission's Agenda?" Journal of Jurisprudence and Legal Practice XXVI (1): 5–23.
---
Aikaterini (Katerina) Tsampi
Assistant Professor, Department of Transboundary Legal Studies (University of Groningen)
Dr Katerina Tsampi was awarded, in 2017, a PhD in Human Rights from the University of Strasbourg — Institut de Recherches Carré de Malberg, France. She has undertaken LLM studies in Human Rights and Humanitarian Law at the University of Paris II/Panthéon-Assas, France and in Specialised Public Law at the University of Bordeaux IV, France and University of Athens, Greece. She holds an LLB from the Faculty of Law of the University of Athens. A part of her undergraduate studies was undertaken in the University of Strasbourg, France (Notions Fondamentales de Droit International, Européen et Comparé).
From 2013 until 2017, Dr Tsampi had been employed as a Legal Officer at the Greek National Commission for Human Rights (GNCHR), publishing thus, various reports and studies pertaining to human rights law and collaborating with international organizations and national human rights stakeholders. In her capacity as an independent researcher, she has been involved in different human rights projects and activities (e.g. UN Human Rights Committee). She has been qualified as a trainer by the CoE HELP program and she is a qualified lawyer at the Rhodes Bar Association. She has received different scholarships (i.e. Ile-de-France, Paris, "Bourse d'excellence", C. Fanourakis Foundation (CFF), Greece).
Selected publications
Tsampi,

Aikaterini

. 2019. Le principe de séparation des pouvoirs dans la jurisprudence de la Cour européenne des droits de l'homme. Paris: Editions A. Pedone.

Tsampi,

Aikaterini

. 2009. "Les statistiques dans la jurisprudence de la Cour européenne des droits de l'homme." Public Law Applications (in Greek) 3: 802–817

Tsampi,

Aikaterini

. 2008. "La notion d' "espérance légitime" au sein de l'article 1 du Protocole no 1 de la Convention européenne des droits de l'homme." Public Law Applications (in Greek) 2: 600–630.
---
Housing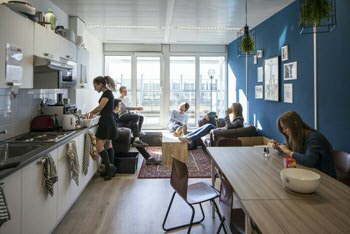 You will stay at Upsilon International Students House. This newly built residence is beautifully located between the city centre of Groningen and the University campus. There is a coffee corner at the main entrance and a rooftop where you can enjoy the sunset. You will have a fully furnished private room, with its own bathroom and toilet. The kitchen/living room is shared with approx. 8 other students, and offers you a place to have dinner or to play a (board) game with your fellow summer school students.
Meals
The kitchens are fully equipped with electric stoves, ovens, fridges, freezers, etc. and of course pots and pans. Please note that food (breakfast, lunch, dinner) is not included unless otherwise specified by your summer school. You should count on spending approximately €15-20 per day on meals, snacks, coffee/tea and/or other refreshments.
Conditions
The housing service is optional, please indicate on your online application form if you want to have accommodation arranged for you. If you agree to have housing arranged for you, you will be offered a standard package with the following conditions:
Standard rental from Saturday 11 July to Saturday 18 July for € 274 (7 nights). This includes cleaning, bed package (duvet, pillow + linen) and basic kitchen utensils.
Check-in is on Saturdays between 2 PM and 10 PM or Sundays between 2 PM and 4 PM. The central summer school office will be there to welcome you.
Check-out is on Saturday before 10 AM.
Cancellation policy: Participants who cancel after 17 June are liable to pay the full amount for the accommodation.
Please note that the international student house is a regular home and not hotel-quality accommodation. If you prefer to stay in other accommodation, please make use of one of the many hotels in Groningen.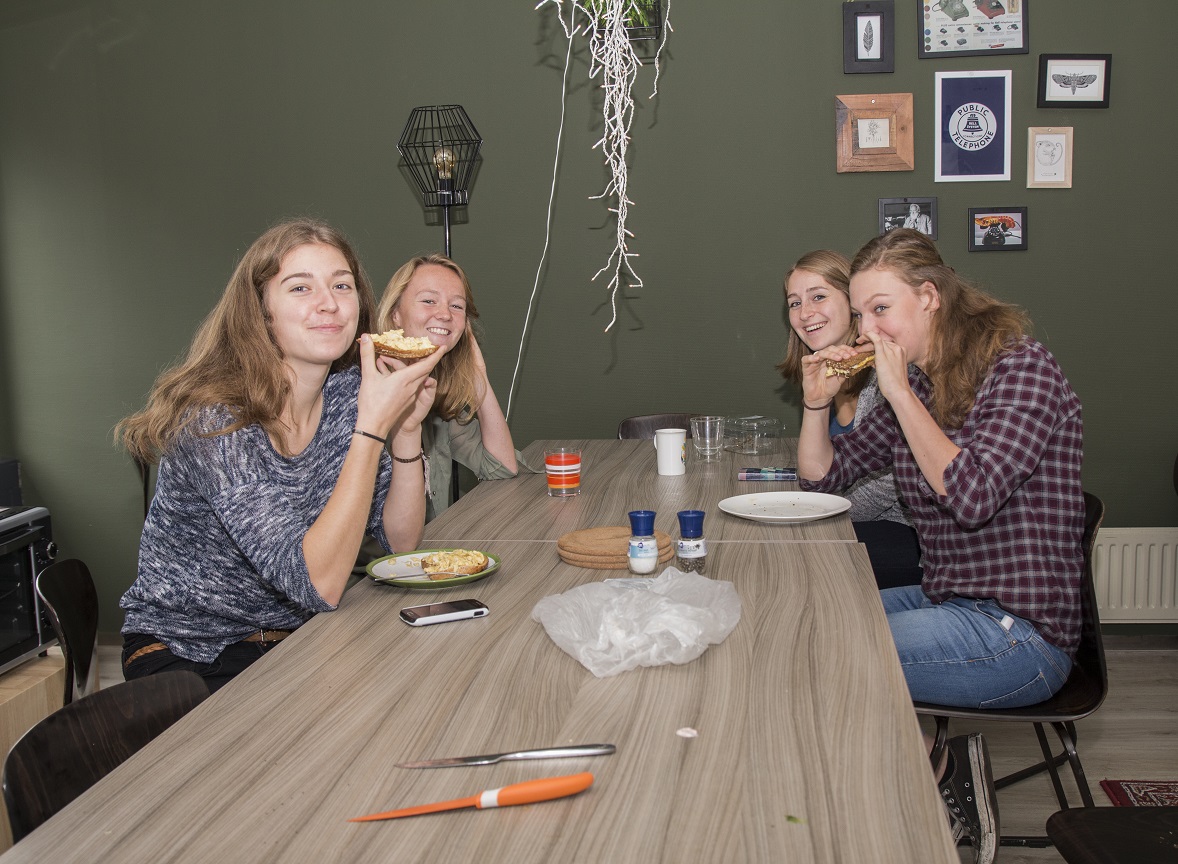 | | |
| --- | --- |
| Last modified: | 31 March 2020 10.30 a.m. |