Information for international students
As an international student, it might be difficult to find a job in the Netherlands. Students from non-EU countries will need a work permit before they can work legally. If you do wish to look for a student job in the Netherlands, there are a number of things you should know. The most important one being: finding a good balance between work and study.
As an international student in the Netherlands, you may want to work alongside your studies or internship. If so, there are some restrictions you will need to take into account.
Do I need a work permit?
Whether or not you need a permit to work in the Netherlands depends on your nationality. If you are a citizen of an EU-EEA country, you are allowed to work in the Netherlands and a work permit is not necessary.
As of 1 July 2018 Croats have the same rights as other EU citizens and no longer need a work permit.
Work permit required
Citizens of other countries do need a work permit (the permit is free of charge) and you are restricted in the number of hours you may work in the Netherlands.
In order to work, you need a:
Work permit (in Dutch: Tewerkstellingsvergunning or TWV). Once you have a job your employer will have to apply for one.

Dutch social security number (in Dutch: Burgerservicenummer/BSN), which you will receive automatically when you register at the city of Groningen. You can also apply for one at the Tax & Customs Administration

Dutch health insurance is required if you wish to work in the Netherlands, even part time. It is extremely important you take care of this, as you run the risk of receiving a high fine.

If you have a residence permit for the purpose of study, the number of hours you are allowed to work is restricted. You may either work full-time in June, July and August only, or work part-time (at most 16 hours a week) throughout the rest of the year. You are not allowed to do both. Furthermore, your employer or employment agency has to give you a competitive salary and terms of employment.
Exception for internships
If you are studying at a Dutch host institution and you need to do an internship as part of your study programme, you do not need a work permit. Your host institution and your employer will need to sign an internship agreement.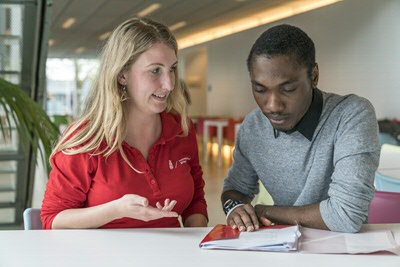 Where to search?
While there are jobs available to students all over the city of Groningen, it may take time to find a position. Be aware that speaking Dutch will be of great help and most jobs will even require it. However, as an international degree student, you are entitled to 50 hours of Dutch classes, free of charge.
University: this is probably the best place for you to start your search.

Let your fellow students, friends and even staff know you're searching. Your network is often the best chance for success!
Notice boards in faculty buildings
Positions within the University are often put on Nestor
Job Agencies: Most Dutch job agencies are focused on Dutch students but some do have jobs for international students. Examples of job agencies in Groningen:
Facebook: There are several Facebook Groups around where jobs are posted.
Want to work in a bar or restaurant? Just take a tour through the city and visit as many bars, restaurants or cafes as you can. Have a talk with the owner and just ask if they have a job for you. This approach will take some courage but will show how motivated you are!
Interesting links to read more about employment:
NOTE: If you are an EU student and you have a 56 hour per month job, you might be eligible for Dutch Study Finance.
Working after graduation
If you wish to continue to live in the Netherlands and find employment here after graduation, you can make use of the so-called 'one-year search period'' for recent graduates. This residence permit for the purpose of seeking work after graduation allows you a period of 12 months to find employment in the Netherlands. More information about procedures and applications: www.ind.nl
| | |
| --- | --- |
| Laatst gewijzigd: | 18 april 2019 10:48 |