Coronavirus pandemic information for prospective students
Updated 16 July 2021: Education in the new academic year starting September 2021
Which UG buildings are open?
Education
As from Wednesday 16 December, lectures and seminars, tutorials and exams must in principle be held online. As from Monday 15 March, both vulnerable and non-vulnerable students will be able to reserve study spaces via LibCal. Spaces are available in the University Library and at various other locations, including the Faculties of Behavioural and Social Sciences and Economics and Business/Spatial Sciences, as well as at Oude Boteringestraat 18 (the former public library) Read more on study spaces
Working in the office
Working in the office is possible, however, consultation with the manager in advance and registration is obligatory. The one-and-a-half-metre distancing rule will still apply. The maximum number of people allowed in a room at any one time is clearly stated and we expect people to comply with this rule.
Face masks will no longer be compulsory inside UG buildings as long as the one-and-a-half-metre distancing rule can be observed.
For information about ventilation in UG buildings, see My University.
Health advice and corona rules
It is more important than ever that people adhere to the national general corona regulations for limiting the spread of the virus.
All UG buildings are, in principle, closed. The following rules apply to people living in the Netherlands in order to combat the spread of the coronavirus:
If you have any symptoms similar to those of COVID-19, please stay at home and get tested at the GGD as soon as possible.
Always keep a 1.5-metre distance between one another.
Wash or disinfect your hands regularly.
Cough and sneeze into your elbow.
Do not shake hands.
As from Wednesday 21 October 2020, everyone is required to wear a face mask when moving through UG buildings, or when queueing (for instance at the University Library, the Aletta Jacobs Hall and/or other busy locations). As of 1 December 2020 this is compulsory by law, and not wearing a face mask in a public indoor space is a finable offence in the Netherlands.
Go to Rijksoverheid.nl for more information.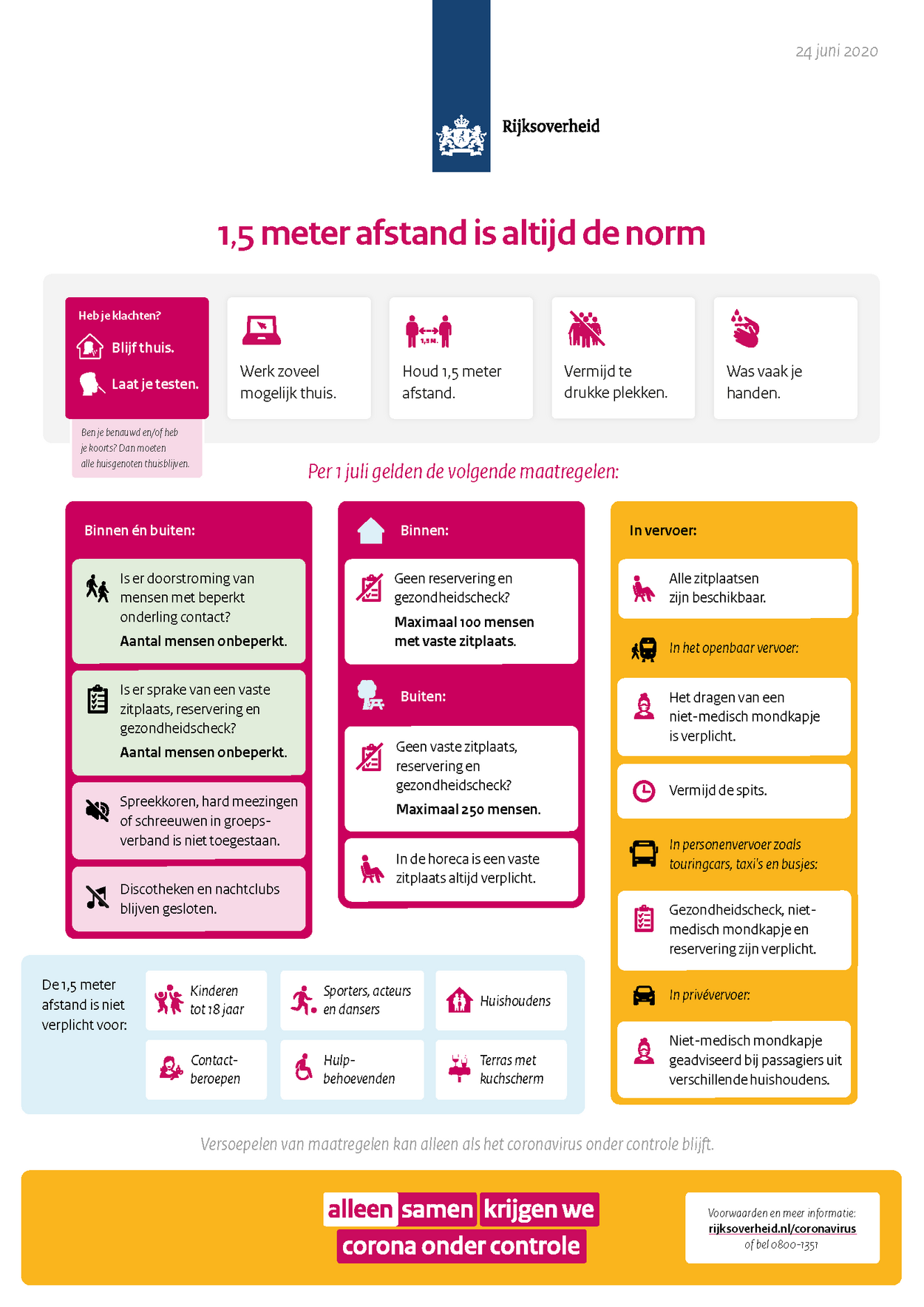 Will students be invited for a coronavirus vaccine?
Once you arrive in the Netherlands you will need to register with your local municipality (gemeente in Dutch). Once you are registered, when your age group becomes eligible for the vaccine, you will be automatically invited to receive a vaccination against the coronavirus. You therefore do not need to either have a Dutch passport, or a specific form of health insurance. The vaccine is free, and non-compulsory.
Information about the availability of vaccines for residents of the Netherlands is available here (in Dutch). To find the planned vaccine schedule, you can visit this website. For general information in English about the vaccine programme, see here.
As an international student, am I eligible for a vaccination?
International students who are registered at the municipality (in the BRP) will receive an invitation to make an appointment for a vaccination from the Dutch National Institute for Public Health and Environment (RIVM), once their age cohort is due. If you have a BSN and a DigiD, you can also make an appointment online, provided that your age cohort is due.
I wasn't able to make an appointment. What should I do now?
Students who missed out on the first invitation to make an appointment for a vaccination will receive a new invitation at a later stage. The same counts for students that were not in the Netherlands when the first invitation was sent.
I am not registered at the municipality (in the BRP), am I still eligible for a vaccination?
International students who are registered in the Non Residents Records Database (RNI) and who have granted permission to be informed on the Covid pandemic will receive an invitation through a (two-)weekly mailing from the Dutch government (in various languages). This mailing will contain information regarding the age cohorts that can make an appointment for vaccination and how they are able to do so.
When is it my turn to receive a vaccination?
The vaccination planning depends on a lot of factors. The aim of the Dutch government is that everybody, over the age of 18 and who wants to receive a vaccination, has received the first vaccination around mid-July 2021. This planning can change, for instance when a vaccine is delivered later than planned.
For most students that are not in a risk group, the moment of the first vaccination will probably be mid-June. For people born before 1992, this moment will probably be sooner.
Up-to-date information regarding (when and which vaccine) can be found on the website of the Dutch government .
What are the University's plans for education in the new academic year starting September 2021?
The coronavirus is unfortunately making a rapid comeback with the emergence of the highly contagious delta variant. Numbers are increasing in the city of Groningen as well, and this is leading to questions from students about what the new academic year will look like. We understand that you all have these questions and that you are worried about the situation.
We previously announced that we were aiming to let go of the one-and-a-half-metre distancing rule as much as possible in the new academic year. This will continue to be our aim, even now that the numbers are on the rise. We will of course keep a close eye on the developments and are constantly in contact with the Municipal Health Service (GGD) and the safety region (Veiligheidsregio).
We will have to wait and see how things develop over the coming few weeks and not make any rash decisions, as the situation is simply too volatile. Until then, we are planning our teaching activities in line with the so-called basic scenario laid down by the Ministry of Education, Culture and Science. This assumes that many of the COVID-19 restrictions will have been relaxed by September. As said, we will closely monitor matters.
How will this work in practice from September?
At present, it seems likely that the one-and-a-half-metre distancing rule will have been dropped by September 2021, making in-person teaching possible.
The maximum group size will be 75. This means that lectures involving over 75 students will have to be organized online or in hybrid form.
On-site teaching activities will be scaled down if the circumstances regarding the virus change. In practice, this will vary per faculty. If the situation arises, some faculties will have to switch to fully online teaching, while others may offer a combination of in-person and online teaching.
For more details, keep a close eye on the announcements made by your Faculty or programme.
What if I will have difficulty travelling to the Netherlands to attend classes in the university buildings?
If you anticipate that you will have difficulty coming to the Netherlands, please contact the faculty you have applied to study in.
Are open days being organised?
Following the success of the Online Bachelor's Week and the Online Master's Week of autumn 2020, the University will be organizing similar events in the Spring of 2021. There will be an Online Master's Week from 22 to 26 March 2021 and a Online Bachelor's Week from 12 t/m 16 April 2021. If possible open days in 2021-2022 will be physical events.
Travelling to the Netherlands
| | |
| --- | --- |
| Last modified: | 16 July 2021 2.58 p.m. |