Coronavirus pandemic information for prospective students
Is the UG still accepting applications?
No, applications closed on 1st June 2020.
The coronavirus pandemic may affect my application and enrollment. How should I inform the UG?
If you have completed your application but cannot submit some of the required documents, please contact Student Information and Administration via study rug.nl or by calling: +31 50 36 38004.
I may not be able to satisfy the application criteria. What should I do?
If you have concerns about your application documents, please contact study rug.nlas soon as possible.
Does the UG accept home assessments arranged by the TOEFL and the GRE?
The UG accepts both the TOEFL iBT Special Home Edition and the GRE General Test taken at home.
You can register at the UG without providing an English language certificate, as this is not a determining factor in our decision on admission. The certificate can be sent later. You will, however, need a language certificate if you have to apply for a visa.
The GRE General Test is only a requirement for students applying for a Master's degree programme at the Faculty of Economics and Business.
I have made a request for registration but am not sure whether I want to start now because of the coronavirus pandemic. Can I postpone my starting date until February or September 2021?
If you have applied for registration via Studielink but have not yet been issued with the status 'registered', you can cancel your registration via Studielink. You may then submit a new request to register on your chosen starting date.
Starting date for all UG Bachelor's degree programmes: 1 September
If Studielink does not show the starting date for your programme, send an email to study rug.nl, stating your student number, the degree programme for which you wish to register and the starting date. We will let you know what to do next.
For fixed quota degree programmes, cancelling your registration means that you will have used up one of your selection attempts
I have already paid my tuition fees. Can I get a refund if I have changed my mind about starting my degree programme or want to deregister because of the coronavirus?
If you have applied for registration via Studielink but have not yet been issued with the status 'registered', you can cancel your registration via Studielink. Your tuition fees will be refunded into your bank account as soon as possible.
If you are already registered and you want to stop or postpone your degree programme, you should submit a request to deregister via Studielink. If you deregister, you are entitled to a refund of one twelfth of your tuition fees for every month of the academic year for which you paid fees while you were no longer registered. N.B. Refunds are not given for the months July and August.
Can I still start my Master's degree programme if I haven't completed the Bachelor's phase due to the coronavirus pandemic?
Since the introduction of the Bachelors-before-masters-rule (the so-called 'Harde Knip') it is only possible to start your master's programme if you have graduated for your bachelor's programme. Because of the corona crisis, the Ministry of Education, Culture and Science has decided that this entry requirement can, under certain conditions, be cancelled in the coming academic year. Due to the corona measures, all education is offered online until the end of this academic year. However, this may cause study delay for some students, since not everything can be done digitally.
This exceptional situation requires special measures, which is why the Board of the University of Groningen has decided to introduce an exemption of one of the existing entry requirements for a master's programme.
From 1 September 2020, students in the final phase of their bachelor's programme can start their master's programme under certain conditions. This way, students can take master courses while also finishing their bachelor's programme. Study delay can thus be limited as much as possible.
Conditions
The conditions for this exemption of the current regulations may differ per faculty and/or study programme. You can only start when you have met the specific conditions of your faculty.
If you meet the conditions, you can be simultaneously enrolled in your bachelor's and master's programme, for the duration of one academic year. You must therefore complete your bachelor's programme in 2020-2021. If you do not complete your bachelor's programme before 1 September 2021, you cannot re-enroll for your master's programme the following academic year. This is only possible after you have completed your bachelor's degree. In the meantime, the results achieved in the master's programme will of course remain valid.
If you think you are eligible, please contact the education support desk of your faculty. They will decide whether or not you meet the requirements.
Faculty of Economics and Business
Faculty of Behavioural and Social Sciences
Faculty of Theology and Religious Studies
Faculty of Arts
Faculty of Medical Sciences
Faculty of Law
Faculty of Spatial Sciences
Faculty of Philosophy
Faculty of Science and Engineering
Questions?
For more information, please contact the education support desk of your faculty.
Which UG buildings are open?
On 12 March, all events and meetings were cancelled and the University buildings closed. Since then, almost all staff members have been working from home. The University Library, the ACLO Sports centre, and the University Museum reopened its doors , though with limited capacity.
Exceptions can be made for key processes, including taking care of laboratory animals and continuing ongoing research projects and experimental set-ups in laboratories.
Staff members who want to work in a UG building must first register. Consult with your faculty or department for details of when you can work at a university location.
Only come to the university when it is absolutely necessary for your work. Work from home for all work you can perform at home.
As from Wednesday 21 October 2020, everyone is required to wear a face mask when moving through UG buildings, or when queueing (for instance at the University Library, the Aletta Jacobs Hall and/or other busy locations).
Health advice and corona rules
It is more important than ever that people adhere to the national general corona regulations for limiting the spread of the virus.
Also the following basic corona rules apply to people entering UG buildings:
Only come to the University buildings if this is absolutely necessary.
Enrol for lectures in accordance with the arrangements of your faculty.
If you have any symptoms similar to those of COVID-19, please stay at home and get tested at the GGD as soon as possible.
Always keep a 1.5-metre distance between one another.
Wash or disinfect your hands regularly.
Cough and sneeze into your elbow.
Do not shake hands.
Follow the indicated walking routes: red stickers with pictograms have been placed in all buildings to indicate separate entrances and exits, walking routes and the maximum capacity of toilets for example.
Whether you wear a (non-medical grade) face mask in the UG buildings is up to you. The UG follows the RIVM (Dutch National Institute for Public Health and the Environment) guidelines in this.
Go to Rijksoverheid.nl for more information.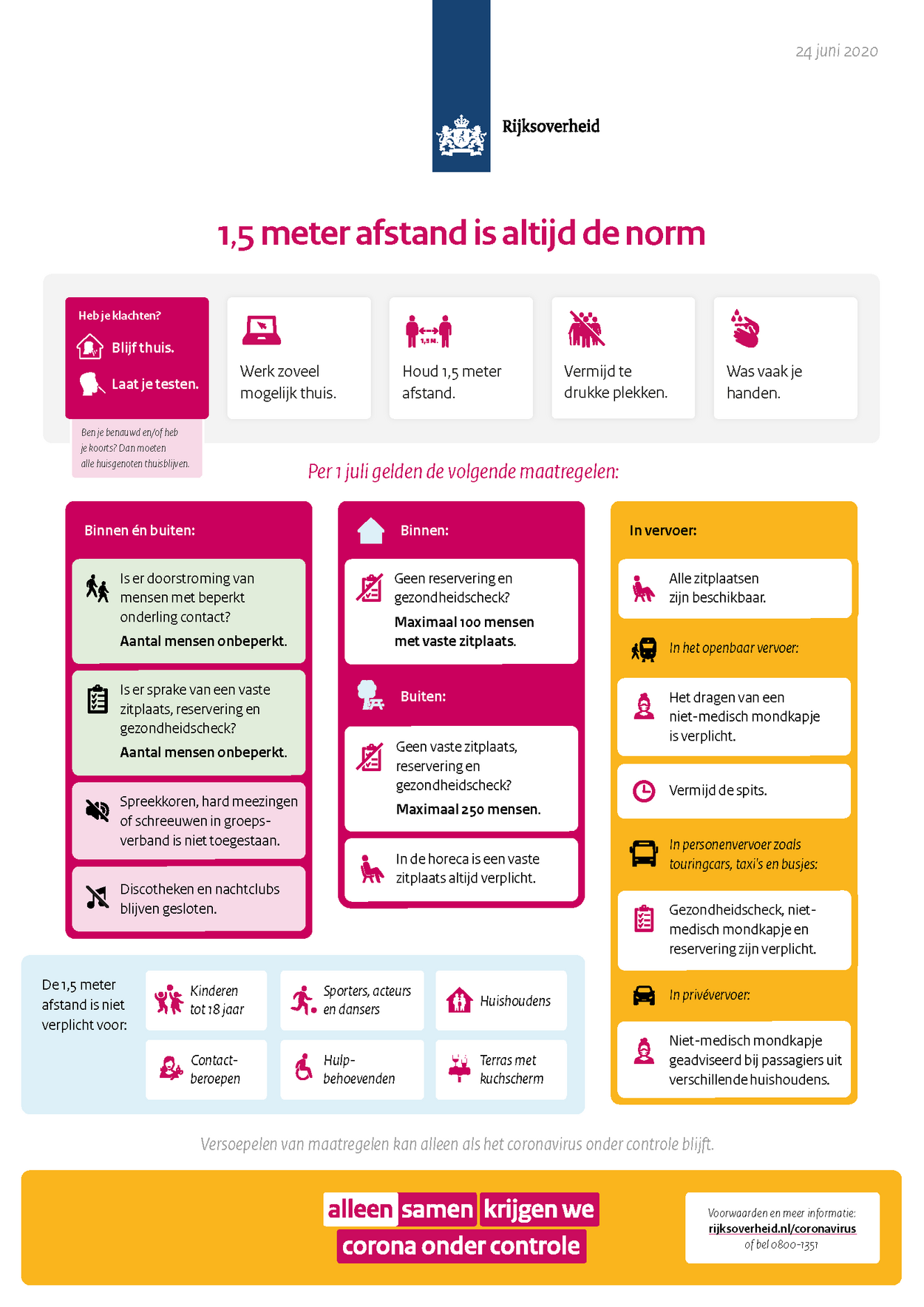 When does the academic year start?
The new academic year will start on Monday 31 August 2020 with this year's opening being a digital event. Many faculties also have given students the freedom to choose whether to follow part or all of the first semester of studies online.
How do I find out if I have the option to follow the first semester (or part of the first semester) of my programme online?
The University is very decentralised, and education is something managed primarily by the relevant Faculty, of which there are 11. Some faculties have already communicated that they are offering new students the flexibility to choose to start their studies online, and to travel to Groningen once this is more feasible. Other faculties have specified that there are only some study programmes where studying fully online is possible, and other programmes where it will be necessary for students to be on campus for some aspect of their learning.
If you have not heard whether the programme you have applied to is being offered online, please contact the faculty you have applied to study in.
Travelling to the Netherlands
Can I travel to the Netherlands?
It is strongly recommended to take extra care two weeks prior to your departure to the Netherlands, by avoiding social activities like visiting bars, parties and large gatherings.
Don't travel if you do have health complaints prior to departure.
What if I can't travel to the Netherlands?
If the border is currently closed with your country, please keep checking as this may change in the coming weeks.
If you are unable to travel now, you may need to explore whether you can begin your course online. Please contact your faculty for this information.
| | |
| --- | --- |
| Last modified: | 23 October 2020 11.53 a.m. |