Vivien, Artificial Intelligence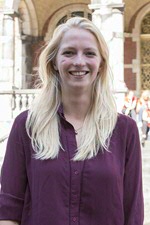 Al sinds de eerste of tweede klas wist ik al wat ik wilde gaan studeren; Ik wilde na mijn VWO-diploma naar de Hogere Hotelschool gaan. Ik heb vele open dagen hiervan bezocht, en was erg enthousiast. Naar Open Dagen van universiteiten ben ik ook gegaan, alleen verdiepte ik me toch niet echt in andere studies. Toen ik echter niet was toegelaten op de Hogere Hotelschool was dit een enorme schok voor me en belandde ik in een valkuil. Ik had me namelijk niet georiënteerd op een plan B, maar uiteindelijk kwam ik uit bij Artificial Intelligence. Ik was niet op een Open Dag of Meeloopdag geweest van de studie, dus wat Artificial Intelligence precies was, wist ik niet eens. Wel wist ik zeker dat ik deze studie in Groningen wilde gaan doen, omdat de studie alleen in Groningen volledig Engelstalig is, en dit een goede basis is voor een buitenlandse carrière.
Ik vind dit echt een geweldige studie, voel me heel erg op mijn plek en heb nooit spijt gehad van mijn keuze, maar achteraf gezien had ik me tijdens mijn studiekeuze proces ook echt moeten orienteren op meerdere studies, in plaats van op alleen de Hogere Hotelschool. Daarom zou ik graag iedereen willen aanraden die zich oriënteert op een lotings- en/of selectiestudie, om ook een plan B te maken.
Ik help je graag bij het antwoorden van vragen over studiekeuze, studeren (in het Engels), Groningen en Artificial Intelligenceof andere studies van de faculteit Science and Engineering!
Mail mij gerust als je vragen hebt over het maken van een studiekeuze, het studeren (in het Engels) en leven in Groningen of over Artificial Intelligence!
| | |
| --- | --- |
| Laatst gewijzigd: | 18 maart 2019 09:07 |