Marieke, Europese Talen en Culturen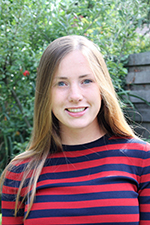 Een studiekeuze maken was voor mij niet zo makkelijk. Ik had op de middelbare school een NG/NT-profiel, vond alle vakken wel een beetje leuk en was niet per se meer geïnteresseerd in bèta of alfa. Na lang rondgekeken te hebben in de bètakant, heb ik uiteindelijk toch een opleiding aan de letterenfaculteit gekozen, namelijk Europese Talen en Culturen!
De opleiding ETC is erg breed, je kiest een taal die je gedurende de hele studie volgt en waarin je vervolgens een hoog niveau bereikt. Daarnaast leer je veel over taalkunde, politiek en literatuur en heb je de keuze om je in één van deze gebieden verder te ontwikkelen. Ik heb zelf gekozen voor een dubbel profiel in politiek en taalkunde en volg als hoofdtaal Duits, maar je zou ook kunnen kiezen voor Frans, Spaans, Engels, Russisch, Zweeds of Italiaans. In je derde jaar ga je een semester naar het buitenland, zodat je nog meer leert over de taal die jij hebt gekozen!
Later wil ik graag voor de klas staan, een politicologie master volgen en me daarnaast nog altijd verdiepen in de maatschappij en verschillende talen.
En ja, daarbij mis ik af en toe het beetje bèta in mezelf, maar toch zul je ergens een studiekeuze moeten maken. Houd daarbij toch ook in je achterhoofd, dat kiezen altijd lastig blijft, maar zolang je gaat voor de keuze die jij maakt, zul je altijd goed terecht komen.
Mocht jij ook van alles leuk vinden, niet weten waar je voor moet kiezen, supererge studiekeuzestress hebben, of juist heel geïnteresseerd zijn in Europese Talen en Culturen, dan kun je me altijd mailen en ga ik je proberen verder te helpen!
| | |
| --- | --- |
| Laatst gewijzigd: | 23 april 2020 10:29 |