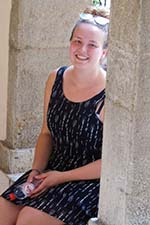 De zoektocht naar mijn studie was vanaf moment één lastig. In de 3e klas moest de keuze gemaakt worden voor een profiel, waarbij ik als eerste voor economie en maatschappij had gekozen. Aan het einde van de 3e klas heb ik besloten om het om te gooien en te gaan voor natuur en gezondheid. Dit was uiteindelijk de goede keuze, want later bleek dat ik dit profiel nodig had voor de studies die ik interessant vond.
In de 5e klas begon de keuzestress en was het tijd om open dagen te bezoeken. Ik vond het lastig om een goed beeld bij alle studies te krijgen, maar sommige sprongen er meer uit dan anderen. Uiteindelijk kwam mijn keuze terecht bij bewegingswetenschappen of kunstmatige intelligentie. De studiekeuze kon ik niet maken, maar waar ik met volle overtuiging voor had gekozen was een tussenjaar. Ik wou reizen, vrijwilligerswerk doen en Engels leren. De keuze had ik voor nog een jaar uitgesteld.
Tijdens mijn periode vrijwilligerswerk in Afrika kwam ik een geneeskundestudent tegen. Zij was ontzettend enthousiast over haar studie en het vrijwilligerswerk in het ziekenhuis in Afrika. De verhalen over haar studie boeide mij en ik ging nog eens goed nadenken over welke studie bij mij zou passen en of het wellicht geneeskunde zou kunnen zijn.
Teruggekomen in Nederland moest ik een keuze gaan maken. Het enige probleem was dat ik nog nooit bij een open dag was geweest voor geneeskunde en die kans had ik ook niet meer, dus moest ik op een andere manier informatie over de studie zien te vinden. Mijn oplossing was om alle geneeskundestudenten die ik kende te spreken. Na veel bellen was ik overtuigd: geneeskunde wordt mijn studie. De steden Groningen en Amsterdam leken mij het meest leuk en ook daarover heb ik veel studenten gesproken, zodat mijn keuze landde bij geneeskunde in Groningen.
Terugkijkend op deze studiekeuze en het proces erachter ben ik blij met deze keuze en hoe het bij mij past. Tijdens het proces was voor mij het met studenten van de studie en stad praten het meeste van hulp voor het maken van mijn keuze. Ik leer met elke dag meer interessante dingen op mijn studie. De stad Groningen is gezellig en ik heb de meest leuke mensen leren kennen via de studie, verenigingen en studentenhuis.
Als je vragen hebt, mail me gerust!
| | |
| --- | --- |
| Laatst gewijzigd: | 09 september 2019 10:36 |