Eva, International Business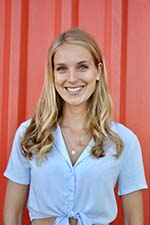 Aan het eind van klas vijf was het mij nog helemaal niet duidelijk welke studie ik moest kiezen. Ik had namelijk geen concrete hobby's of interesses die direct aansloten op een studie. Vele open dagen en verhalen over allerlei studies leverden mij informatie op over verschillende onderwerpen. De vraag welke ik daarvan moest kiezen bleef echter onduidelijk voor mij.
Pas toen ik op een andere manier ben gaan nadenken kwam ik er opeens heel snel achter welke studie geschikt was! In plaats van me te focussen op welke studie ik wilde doen, ging ik nadenken over waar ik later terecht wilde komen. Ik zag mezelf het meest voor me in een bedrijf, werkend met mensen, liefst (deels) internationaal, niet aan de economische kant van het bedrijfsleven maar meer aan de HR/management kant.
De volgende vraag was welke studie mij hier zou kunnen brengen. Daar bleken meerdere antwoorden op, maar ik heb daar een keuze uit gemaakt door te kijken naar mijn persoonlijke sterke punten en kwaliteiten. International Business leek de beste weg voor mij. Ook omdat IB drie jaar lang veel verschilde vakken blijft houden wat aansluit bij mijn brede oriëntatie.
Ik heb geen seconde meer getwijfeld aan deze keuze en ben er zelfs achter gekomen dat juist de economische vakken mij erg goed liggen, het voordeel van een brede studie!
Als tips zou ik dus vootal meegeven om verder te kijken dan alleen de studie zelf, wat wil je later doen? Ben je breed geïnteresseerd of ben je een specialist? Welke wegen leiden naar jouw toekomstbeeld? Een andere tip is om contact te leggen met iemand van de studie die je overweegt te kiezen. Dit geeft een veel realistischer beeld en geeft de mogelijkheid om vragen te stellen die pas naar voren komen doordat je in gesprek gaat!
Als je nog vragen hebt over studiekeuze, international business, studeren in het Engels of nog iets anders, mail mij gerust!
| | |
| --- | --- |
| Laatst gewijzigd: | 06 september 2019 14:41 |