Impactful Data Analyst Course
Would you also like to gain more insights, based on the rapidly growing data from your own company? And would you like to become the newest member of a unique knowledge sharing network of (former) trainees?
The next edition of the part time course Impactful Data Analyst will start September 20th 2019.
Interested? Let us know now, because from experience we know that this course has a tendency to fill and close early.
Why choose for this course?
1. The importance of impactful data analyses is ever increasing for companies in the current market, because it has been proven that management decisions become more effective when they are based on facts, derived from the analysis of customer behaviour.
2. Still, many managers and analysts have the feeling that they are 'underachieving' in this area, and therefore have a lot to learn. This is why the Customer Insights Center has developed an interesting executive course, in which science and practice come together. The purpose of this course is to brush up analyst's knowledge of new methods, techniques and competences that really make a difference.
3. In this course, we dedicate much time to insights regarding Big Data questions (from churn modelling to segmentation, etc. etc.). Also, we will help you train important communication styles, with which you can convey knowledge to the business in a convincing and effective manner.
4. What makes this course extra special, is that it is part of the curriculum of the University of Groningen Business School (UGBS). Participants will receive an official degree from the University of Groningen.
Added value for data analysts
5. Besides all that, the unique, small design of this course offers room for individual coaching and the use of examples and data sets from your own workplace. This method guarantees that each participant will receive sufficient individual attention and outcomes of the course are applicable in your job.
6. The previous editions have had great impact. For example, Nicole Lakes, data analyst at Nationale Nederlanden, says: 'This course provides a valuable combination of hard and soft sides of this profession. (..) In the meantime I have recommended this course to someone I know and I will keep on doing so, because this course is very useful for every analyst that wants to increase his impact!'
Bart Derksen, now manager at Univé, adds:
Fridays, central location in the Netherlands, tax deductible investment
7. The executive programme is spread out over approximately several Fridays divided over (not during school holidays) half a year. All meetings take place at a central location in the Netherlands to limit the travel time of all participants.
8. The investment is €6655 for non-members, including hotel accommodation and catering. Members of the Customer Insights Center receive a discount and pay the special price of €5929 per person. The costs for this course are completely tax deductible for you or your employer!
9. Information on this website and in our brochures may be subject to change. In the event of such changes, participants who have registered will be informed timely. We know from experience that this allows us to make each class even more impactful.
Tips to make your registration effective as well
10. Considering the popularity and the small scale of this programme, we recommend you to register early to guarantee your place. The registration will close when +/- 10 participants have registered, in order to provide sufficient time and room during the course for learnings for every individual participant.
11. We know from experience that it can take a long time before organisations internally agree on courses. So even if you haven't received a formal agreement, it is already possible to take an option on this course without further costs or obligations. Isn't your HRM officer or supervisor convinced yet? Let us know, because we have lots of experience to help you take the next step in the process.
Contact us personally for all your questions
12. For content related questions you can contact the core teachers of this course: Prof.dr. J.E. Wieringa (science) or Drs. G.F. Haanstra (practice). Feel free to direct all your other questions to Lianne Molog-Kwant via 050 - 363 3686 or cic@rug.nl.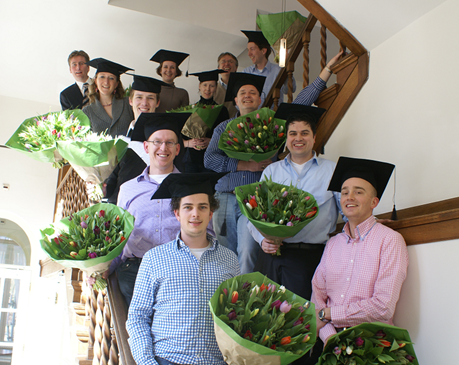 ---
Other executive courses by the Customer Insights Center
Click here for the overview of executive courses that the Customer Insights Center of the University of Groningen (RUGCIC) offers.
| | |
| --- | --- |
| Last modified: | 20 May 2019 12.01 p.m. |