Academy Professors Prizes
Every year the Royal Netherlands Academy of Arts and Sciences (KNAW) awards two prizes, each worth € 1 million. One prize is awarded to the most excellent researcher in the social sciences or humanities, and the other to the most excellent researcher in the natural, technical or life sciences. The Academy Professor grants are awarded to excellent researchers as lifetime achievement awards for exceptional achievement throughout the course of their careers.
Source: KNAW website
Over the years, several academics from Groningen have received the prize:

2010: Prof. E.G.E. de Vries
Faculty of Medical Sciences
De Vries (Medical Oncology, University of Groningen) was appointed Academy Professor in recognition of her pioneering research within a very wide spectrum of medical oncology. She is a prominent international researcher and develops and implements new techniques in both scientific research and patient care.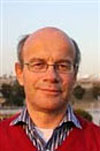 2010: Prof. E.A. Bergshoeff
Faculty of Mathematics and Natural Sciences
Bergshoeff (Theoretical Physics, University of Groningen) has made important contributions to scientific breakthroughs in the field of string theory and membranes. He is an internationally renowned scientist whose ideas have strongly influenced the field and its development. Throughout his career, Bergshoeff has been an innovative researcher, and his development of brane theory has had a lasting influence on theoretical and mathematical physics.

2008: Prof. B.L. (Ben) Feringa
Faculty of Mathematics and Natural Sciences
Feringa was awarded an Academy Professor Prize for his groundbreaking work in the field of chemistry. He became world-famous after he synthesized organic molecules. Feringa was the first person to synthesize molecular motors that continued to turn under the influence of light. Colleagues worldwide regard this as one of the high points of modern chemistry. Many of the postdoc researchers he has attracted from all over the world have moved on to fill high positions at prominent universities outside the Netherlands.

2007: Prof. D.S. (Dirkje) Postma
Faculty of Medical Sciences
Postma , Professor of the Pathophysiology of Respiration at the University of Groningen, was awarded an Academy Professorship 'for her contributions to the field of pulmonary disease'. Postma has worked on asthma, chronic obstructive pulmonary diseases (COPD) and allergies. Her early work, leading to the use of steroids as a standard treatment for asthma patients, has benefited many millions of people worldwide. She has a very broad range of research, having chosen a number of different areas to study, and has examined each of these in great detail and in a highly original manner. She continues to do both clinical work and basic research at an exceptional level. She has successfully expanded her research into the genetics of asthma and is now recognized as being one of the leading investigators in this field worldwide. She has exhibited an exceptional ability to relate the physical conditions of patients to their likely genetic modifications, and is well known for her ability to link pathology to genetics. She is part of a small group of leading researchers in genetic studies. Her international reputation in the whole area of pulmonary allergy and asthma is excellent, and she continues to receive frequent invitations to speak at large international conferences and to contribute to small specialist workshops. She was able to obtain outstanding financial support for asthma and COPD research and she has trained a remarkable number of students who have continued to reveal the bases and treatment of these debilitating diseases.
2005: Prof. A.P. (Bram) Buunk
Faculteit Gedrag- en Maatschappijwetenschappen
Buunk , Professor of Social Psychology at the University of Groningen, was awarded an Academy Professorship for his influential theoretical contribution to social comparison theory, his empirical research into social comparison processes in several new domains, and his evolutionary-psychology approach to social behaviour. His work constitutes an important contribution to solving problems linked to work-related stress, burnout, mental health and serious illnesses. His research has also resulted in important new conclusions in the field of jealousy and reciprocity in interpersonal relationships.
| | |
| --- | --- |
| Last modified: | 09 August 2018 4.04 p.m. |