Walvoort, dr. Marthe

Marthe Walvoort is universitair docent scheikunde op de Rijksuniversiteit Groningen. Ze onderzoekt de werking en functie van suikermoleculen. Die zitten niet alleen in eten, maar ook in papier of aan de buitenkant van bacteriën en virussen. Walvoort bestudeert deze moleculen door ze na te maken in het laboratorium. Dit staat, in tegenstelling tot het namaken van DNA- en eiwitketens, nog in de kinderschoenen. Een groot gedeelte van haar onderzoek draait daarom om het ontwikkelen van nieuwe methodes om suikerketens te maken.
Bacteriën gebruiken suikers vaak om andere cellen te infecteren. De kennis die het onderzoek van Walvoort oplevert, kan daardoor leiden tot nieuwe manieren om bacteriën onschadelijk te maken. Een ander speerpunt is het ontwikkelen van suikerketens die de groei van goede bacteriën stimuleren ten opzichte van slechte, waardoor in de toekomst minder antibiotica nodig is.
Walvoort deed aan het eind van haar studie scheikunde in Leiden een jaar onderzoek in Oxford. Daarna promoveerde ze in Leiden cum laude af in de scheikunde en was ze van 2012 tot 2015 als postdoctoraal onderzoeker verbonden aan het Massachusetts Institute of Technology (MIT).
Marthe Walvoort is Rosalind Franklin Fellow aan de Rijksuniversiteit Groningen en tevens een van de oprichters van de Young Academy Groningen.
Eerder in het nieuws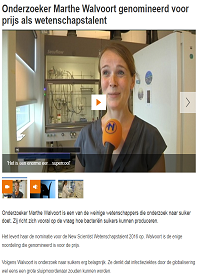 Contact en meer informatie
Publicaties
| | |
| --- | --- |
| Laatst gewijzigd: | 09 januari 2019 15:06 |