Nienke Bastiaans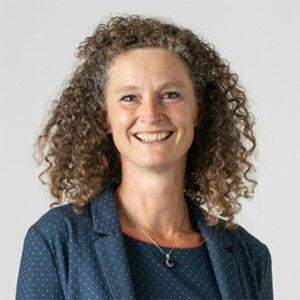 Nienke Bastiaans works as Managing Director for the Faculty of Theology and Religious Studies. This means, as a Faculty Board member, she is responsible for Human Resources, finances, and the building. As a Faculty Board, Ms. Bastiaans and her colleagues jointly deal with education, research, and the Faculty's policies in general. She has worked for the University of Groningen for a long time. First for the Faculty of Economics and Business as an educationalist, and later as Head of Department.
What is it like working as a support staff for the University of Groningen?
I like it a lot. There are a lot of options to develop yourself. As a support staff, it is always important, I think, to focus on the primary processes of research and education. Together with academic staff and support staff, we can do a lot to create and facilitate excellent education and research.
What makes your job as a support staff at the Faculty of Theology and Religious Studies so much fun, and interesting?
What we do at our faculty is very relevant to society. Indicating what impact religion has on people's views and on their behaviour, it helps us to understand what is going on in the world. It is very rewarding to be part of a faculty that deals with these issues. My colleagues are very nice and great to work with - we have good quality staff. We are quite close, because we are small scale, and this makes us a personal place to work for.
What is the University of Groningen like as an employer?
I like the University of Groningen as an employer, because of the options and excellent facilities it gives to develop yourself.
How would you describe the University of Groningen to outsiders?
The University of Groningen is a personal organisation, and it is also a great institution to work for. It is a warm and friendly community, with a lot of passion for education and research and a wide variety of disciplines.
What is it like to work and live in Groningen?
I work in the city centre, which is nice because of its atmosphere. I live in the countryside of Groningen: very beautiful, with its old churches, small villages, overwhelming landscapes, and commuting is easy. There are high-quality schools for children, and the quality of life is very good here in Groningen.
| | |
| --- | --- |
| Last modified: | 24 September 2020 07.01 a.m. |