BA/BSc Liberal Arts & Sciences
The Liberal Arts and Sciences programme offered by University College Groningen (UCG) enables you to study a wide variety of academic disciplines. You get to to build your own programme to fit your individual skills, interests and ambitions. Whether you are interested in physics or economics, psychology or philosophy, you can study a broad range of subjects whilst developing specialist knowledge in your major discipline.
We offer the opportunity to create your own unique programme under the guidance of an academic tutor, depending on your interests and academic and professional ambitions. You can combine different disciplines like Politics, Philosophy and Economics, but can also focus on areas like Media Studies, Physics or Health and Life Sciences.

Our academic programme focuses on interdisciplinary knowledge and teaches you to apply creative approaches to complex problems in a series of integrative projects that address real-world societal challenges. Through our project work, you learn to collaborate across both disciplinary and cultural boundaries, developing vital skills for your future career. You will develop your talents in new and exciting directions, collaborating with students from all over the world as part of an active and engaged learning community. You will also study Research and Methodology courses and have the option for an international experience (e.g. study abroad) in your third year.
Studying Liberal Arts and Sciences provides you with a broad interdisciplinary basis, after which you can go on to study an MA programme in a particular discipline at either the University of Groningen or other top international institutions. The programme prepares you for Masters degrees and careers in many different fields including Business, the Arts, Scientific research, Governmental Organizations, NGO's, and many more.
Read more about the Liberal Arts and Sciences programme in our digital brochure.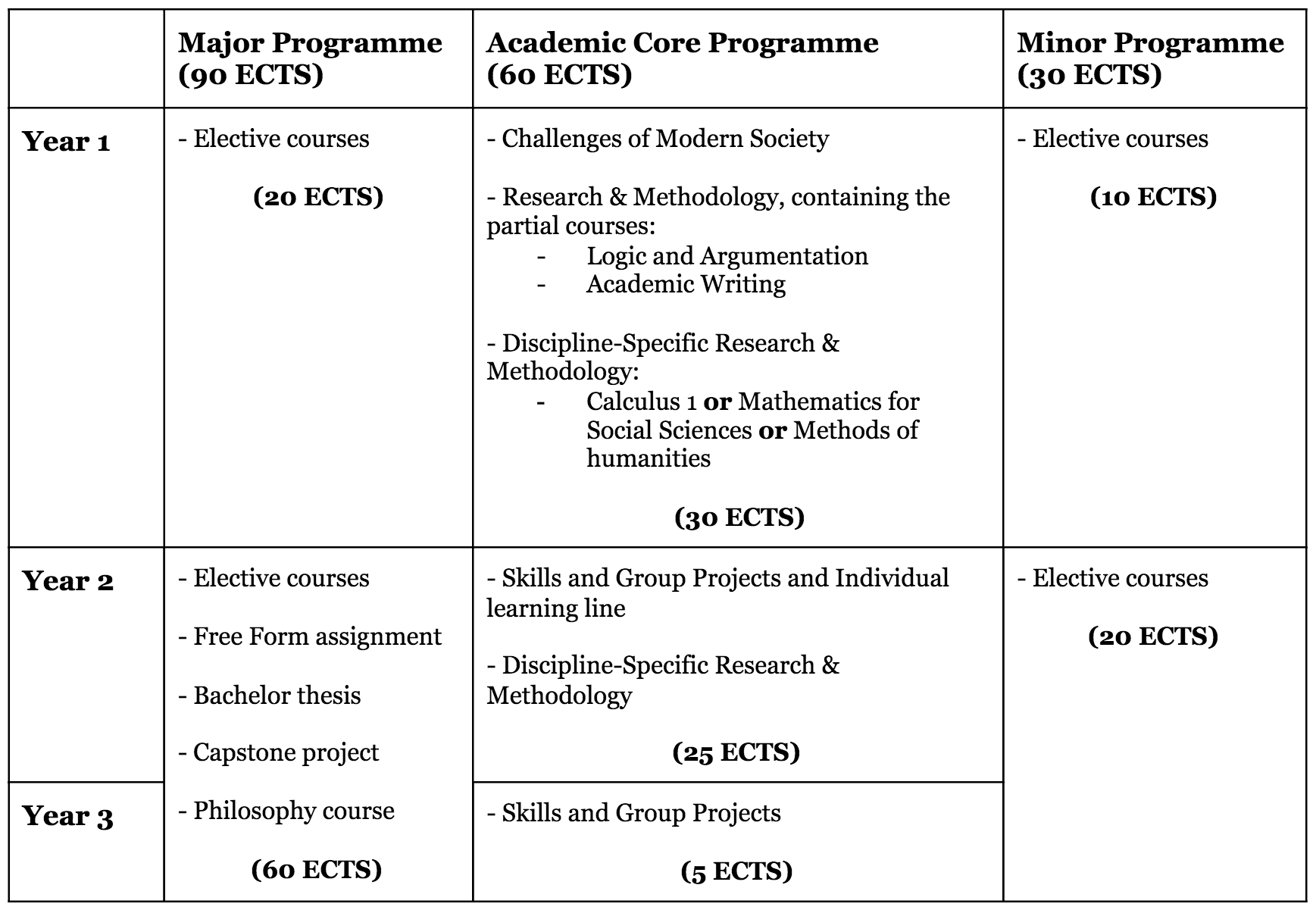 Credits / ECTS
In your first year you will explore multiple disciplinary fields (Sciences, Social Sciences and Humanities) before choosing one of those fields as a major for your second and third year. You will also follow a core programme of 30 credits during the first year. In this core programme, you will explore global challenges in a series of theme courses and projects, where you will learn to apply knowledge and creative approaches to complex problems. You will also study research methods, logic, math, and philosophy of science, whilst developing your academic communication and interpersonal skills. The remainder of the first year programme is up to you to decide. You will be required to attain 20 credits in one of the three major fields: Sciences, Social Sciences and Humanities and 10 credits outside your major field.
In your second year, you will have the chance to study your major discipline (35 credits), an integrative project (10 credits), and a Research and Methodology programme (15 credits).
In your third and final year, you will gain some international experience, which could include study abroad (30 credits) or a University of Groningen minor. On top of this you will complete your major specialisation (15 credits), Bachelor thesis (10 credits) and a capstone project (5 credits).
Facts and Figures
Liberal Arts and Sciences
Degree
Bachelor of Arts (BA)/ Bachelor of Science (BSc)
Language of Instruction
English
Duration
36 months
Teaching
Full-time
Number of Places for 2019 entry
150
Student Body
40% Dutch / 60% International* Estimate
Application Deadline
Early bird: January 15th, Final: May 1st 2019
Semester Start*
September 3, 2019 (* the mandatory introduction week will begin mid August - date TBD)
University College Groningen is a Faculty of the University of Groningen, a global top 100 University.
| | |
| --- | --- |
| Laatst gewijzigd: | 12 maart 2020 22:13 |