(Junior) Business Research & Consulting
---
Want to add some practical experience to your CV and earn 5 ECTS while doing so? (Junior) Business Research & Consulting (BR&C) enables you to apply theory and knowledge to practical business matters.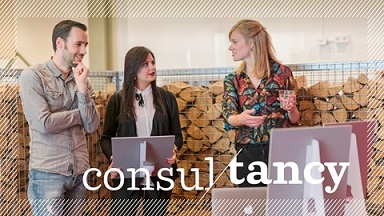 The combined course Business Research and Consulting (for all FEB MSc's) & Junior Business Research and Consulting (for all FEB BSc's*) is a 5 ECTS elective , which reflects on actual situations and analytically supporting the advice you offer a client. It concerns developing specific skills like observing, problem solving, leadership, teamwork and decision-making and enables you to find out what role you can play in the consulting process and how to effectively advise your client.
When: each block
For: 3rd year BSc and MSc students of all programmes
Time investment: 2-3 contact hours per week + group work on assignments and advice report
---
What's in it for you?
Experience what it's like to work as a (junior) consultant and find out whether this suits you and your ambitions

Get insights into actual management issues and apply your knowledge

Learn to solve problems

from a commercial point of view

Learn to meet the needs of your client

Get insights into your own skills to better communicate your added value to employers
---
How does it work?
During this course, you will carry out a research and consultancy project for a specific organisation in a team of three to four students from various levels and programmes, while being supervised by a FEB lecturer. Teams will be formed based on interests and field(s) of study. Together with your supervisor your team will visit the company in the first week of the block to get to know the organisation, your contact person(s) and to address the main questions/goals. Afterwards, you and your team will investigate the managerial problem and develop and execute a research plan. The teams are supported through tutorials and plenary trainings on research methodology and consultancy skills, weekly feedback sessions, and plenary poster presentations. In the last weeks of the block you and your team will present your findings and possible solutions to the management of the organisation. You will also be asked to reflect on how you developed your research and consultancy skills during the assignment.

---
Interested?
Enrollment for block 2a 2018-2019 will be open until Sunday January 13th, 23.59hrs! To be selected, you have to fill out the webform.

Selection goes like this: we will match the assignments to the students based on the content of the assignments, the clients wishes and the information you shared with us in the web forms. Please also mention study programmes you have already finished. There is a (small) chance we will not be able to match you, in which case we will let you know in time so you can still register for another elective in Progress. That is why our deadline closes before the general deadline. If you are selected based on your submitted form, we will register you in Progress afterwards.
In case you have questions about this course, please don't hesitate to send us an email: careerservices.feb@rug.nl
Deadline: Enroll until Sunday January 13th, 23.59hrs.
---
*In some programmes, the course might not be listed as a recognised elective, in which case you have to contact your programme director in order to find out whether you may list it as an elective course within or on top of your programme. If not, you are of course still welcome to apply for this chance of building up valuable experience!
| | |
| --- | --- |
| Last modified: | 12 March 2020 10.13 p.m. |