Executive Meetings (premium)
Regelmatig organiseert het Customer Insights Center van de Rijksuniversiteit Groningen een executive meeting exclusief voor premium leden.
Ben jij hier ook weer bij?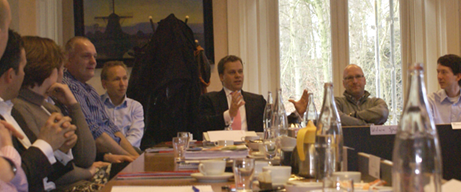 Executive Meeting voor RUGCIC Premium leden bij Syncasso
Datum
In overleg te bepalen
Thema
In overleg te bepalen
Tijdens elke Executive Meeting bijeenkomst bieden we voor een select gezelschap van genodigde premium leden een overzicht vanuit de wetenschap en de praktijk ten aanzien van een Customer Insights thema. Het doel is om met een tijdsinvestering van slechts 1 middag up-to-date kennis uit te wisselen rondom Customer Insights.
Daarbij starten we met een overzicht van beschikbare wetenschape kennis, horen daarna over de praktijkervaringen hiermee van onze gastorganisatie, terwijl we afsluiten met een discussie aan de hand van cases of stellingen.
Deze klantinzichten willen we graag delen met een zeer select gezelschap van relevante marketeers van premium leden van het Customer Insights Center van de Rijksuniversiteit Groningen (RUGCIC). Ben jij hier ook weer bij?
Agenda
13.00 ontvangst
13.30 wetenschappelijke inzichten
14.15 pauze
14.45 praktijkpresentatie
15.30 interactief deel
17.00 rondleiding door de
18.00 einde
Locatie
In overleg te bepalen
Ook een Executive Meeting bij jou op kantoor organiseren?
Ook een Executive Meeting organiseren? Werk jij als marketeer bij een van onze Premium leden en wil jij een onderwerp op de agenda zetten? Het vergt slechts een zaaltje op je eigen kantoor! Wij kunnen vanuit het Customer Insights Center een lezing met een overzicht van wetenschappelijke kennis verzorgen. Ook regelen wij vanuit RUGCIC de uitnodigingen aan een tiental andere leden om aan te schuiven. Wellicht helpt de efficiënt gebundelde kennis van zo'n middag jouw bedrijf om een sprong voorwaarts te maken. Verder is het natuurlijk altijd handig om anderen te kennen die met vergelijkbare vraagstukken bezig zijn. Samen weten we meer dan alleen.
Wie wil de eerstvolgende meeting hosten? Stuur jouw onderwerpsvoorstel naar cic rug.nl.
Geen Premium lid, maar Basislid?
Is jouw bedrijf niet Premium maar Basislid? Bekijk dan onze Ronde Tafel bijeenkomsten om te zien of daar een passende bijeenkomst tussen zit! Voor vragen mag je natuurlijk mailen naar cic rug.nl.
---
| Eerdere Executive Meetings | Behandelde onderwerpen |
| --- | --- |
| 16/1/2020 | Raad van Advies |
| 24/10/2019 | Syncasso: omgaan met laaggeletterde klanten |
| 11/4/2019 | NDC Media: Churn |
| 18/10/2018 | Allen: Raad van Advies, Soest |
| 8/3/2018 | Ohra: Customer Experience |
| 1/2/2018 | Engie: Big Data voorspelmodellen |
| 2/11/2017 | PostNL: Digitale transformatie |
| 28/9/2017 | Allen: Raad van Advies, Utrecht |
| 8/6/2017 | KLM: Customer Feedback Loop |
| 1/12/2016 | Delta Lloyd, Branding in Digital Times |
| 17/11/2016 | Wartsila, B2B masterclass over Customer Value Management |
| 26/9/2016 | Plus, over loyaliteitsprogramma's |
| 1/9/2016 | Raad van Advies, Zoelen, over nieuwe thema's die leven in de markt |
| 16/6/2016 | Shell, over mobiele marketing |
| 17/3/2016 | wehkamp.nl distributiecentrum, big data analytics inzichten en uitdagingen |
| 18/1/2015 | Loyalty Management Netherlands Airmiles: nieuwe ontwikkelingen op het gebied van privacy? |
| 23/11/2015 | Centraal Beheer Achmea: wat zijn de nieuwste inzichten in attributiemodellering? |
| 25/6/2015 | Baarn: RVA, Big Data en meer nieuwe ontwikkelingen rondom Customer Insights? |
| 11/12/2014 | LMN Airmiles: RVA, wat zijn de belangrijkste nieuwe ontwikkelingen in het vakgebied? |
| 10/9/2014 | Incassade: hoe passen we psychologische beïnvloeding toe op wanbetalers? |
| 18/9/2014 | PostNL: hoe herkennen we een nieuwe disruptie in de markt? |
| 22/7/2014 | NS: hoe relevant zijn en werken customer metrics? |
| 5/9/2013 | Haarlem: RVA, waar staan we nu en wat zijn de vervolgstappen? |
| 11/2/2013 | Ziggo: hoe verbeteren wij onze klantensegmentatie? |
| 6/11/2012 | Holland Casino: zoektocht naar de betekenis van klantwaarde en loyaliteit? |
| 11/6/2012 | Zaandam: RVA, social media effectiviteit? |
| 1/12/2011 | Centraal Beheer: hoe meten we beter met marketing metrics? |
| 16/9/2011 | Eernewoude: RVA, spanningsvelden in marketing? |
| 16/5/2011 | Cendris: hoe vergroten wij ons implementatiesucces? |
| 1/9/2010 | Eernewoude: RVA, marketing in transitie? |
| 7/9/2009 | Galamadammen: verbetervoorstellen? |
| 16/10/2008 | Wehkamp.nl: RVA, positionering? |
| 25/3/2008 | NS: jaarplanning en thema's? |
| 21/6/2007 | Paterswolde: RVA, wat zijn de geluiden in de markt? |
| | |
| --- | --- |
| Laatst gewijzigd: | 15 juli 2022 12:04 |