Veni, Vidi and Vici grants awarded to the University of Groningen in 2016
Grants awarded by the Netherlands Organisation for Scientific Research (NWO, Innovational Research Incentives Scheme).
'
Dissecting the effects of brown adipose tissue on the vessel wall'
Dr Y. (Yanan) Wang (f), University Medical Center Groningen - Pediatrics
Brown adipose tissue is an emerging target to combat cardiometabolic disease. This project aims to dissect the mechanism(s) how brown adipose tissue activation attenuates atherosclerosis.
'
Energy crisis in the failing heart'
Dr. B.D. (Daan) Westenbrink (m), UMCG - Cardiology
Heart failure is a deadly disease of which the cause has not been unraveled yet. We do know that the energy reserves stored in the heart out. The investigators will try to find whether inhibition of mitochondria, the power stations of the heart, is at the heart of the problem.
'
Matter over mind: Skinner, Quine, and the Heyday of Behaviorism'
Dr. A.A. Verhaegh (Sander) (m), RUG – Philosophy
Twentieth-century psychology and philosophy were dominated by behaviorism. The leading scholars were B.F. Skinner and W.V. Quine. How did they develop their theories? How did they influence each other? And what are the implications for the relation between psychology and philosophy? This projects answers these questions by examining their archives.
'I
nformation storage at the nano-scale

'

Dr S. (Saeedeh) Farokhipoor (f), RUG - Physics
Ever-smaller electronic components cannot be manufactured using current technology. Scientists will explore the self-assembly of miniature capacitors in novel materials, for information storage. Reduction of both size and power consumption enables advances in electronics to continue well into the future.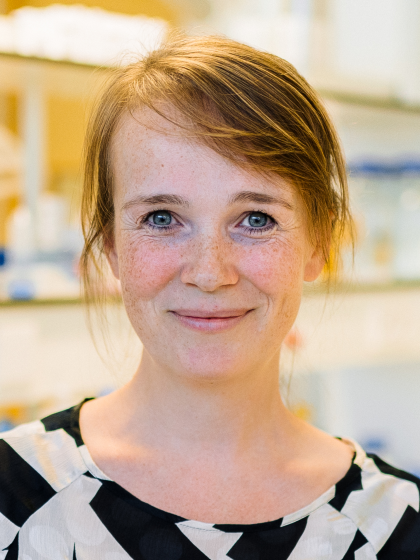 '
Attacking the bacterial sweet spot
'
Dr. M.T.C. (Marthe) Walvoort – Faculty of Mathemetics and Natural Sciences
Bacteria display a diverse array of exotic sugars that are absent from humans. These sugars play a crucial role in infection and bacterial survival. Using chemistry and biology, the researchers will explore a novel sugar modification with the aim to attack this bacterial sweet spot in the fight against infection.

'Are there other universes?'
Dr. S.M. (Simon) Friederich - University College Groningen
Some philosophers and physicists think so. According to them, the existence of other universes can explain why there is at least one -our own- that is hospitable to life. This multiverse idea leads straight into a minefield of epistemological challenges - all systematically tackled by this project.
'Weighing evidence reliably'
Dr L. (Leah) Henderson - Faculteit of Philosophy
We learn from what others tell us all the time. Yet others are not always reliable. This research investigates the basic principles behind how should we take appropriate account of the reliability of our sources of information. It applies these principles to practical problems in scientific and legal policy.
'Relativism in Ancient Philosophy'
Dr. T. (Tamer) Nawar – Faculty of Philosophy
The idea that truth and morality are relative, not objective, originated in ancient Greece and has divided thinkers ever since. But how can something be 'true for someone'? What implications are there if morality is relative? This project will offer the first systematic examination of relativism in Greco-Roman philosophy.
'Beyond rivers of Babylon: Rural Landscape and Settlements in Hellenistic Mesopotamia'
Dr. R.P. (Rocco) Palermo – Faculty of Theology and Religious Studies

Alexander the Great created the very first global world and his successors ruled over several modern nations from Europe to Asia. In this project I will investigate the impact of the Seleucid imperial power on the rural landscape of Mesopotamia through the analysis of newly collected evidence by multiple archaeological projects in Iraqi Kurdistan.
Manipulating Spiritual
Matter. How did Early Modern Science Become Experimental?
Dr. D.C. (Doina-Cristina) Rusu – Faculty of Philosophy
The emergence of experimental philosophy in the seventeenth century is linked with the adoption of a corpuscularian matter theory. However, experiments were used before corpuscularianism. This project studies how the concept of 'spirits' allowed the transition from the Aristotelian-scholastic matter theory to corpuscularianism, giving birth to the new experimental science.

'New enzymes, new possibilities'
Prof. dr .ir. Marco Fraaije – Faculty of Mathematics and Natural Sciences
Every lifeform is dependent on enzymes. Most enzymes contain an essential additive for their functioning, the so-called cofactor. Recently it has been discovered that many bacteria use an unusual cofactor. The researchers are going to study the enzymes that are dependent on this cofactor, with an eye to new industrial applications and the development of new antibiotics.

'Creativity in Organizations'
Prof. Bernard Nijstad - Economics and Business
Is it better to give creative employs freedom or are they in fact creative under pressure? How does this work for teams and how do organisations ultimately benefit from these creative ideas? In his Vici project Nijstad will develop an integrated theory about the creativity and innovation of individuals, teams and organisations.
Lignin waste to valuable chemicals
Dr. K. (Katalin) Barta - Faculteit Wiskunde en Natuurwetenschappen
Lignin is the largest renewable source of aromatics on the planet. Still, its chemical conversion is a real challenge. This research will find ways to break down the robust structure of lignin and convert this aromatic biopolymer into valuable chemicals.
How full is a cell?
Dr. A.J. (Arnold) Boersma - Faculteit Wiskunde en Natuurwetenschappen
We do not know how full a cell is, while this parameter affects different processes and can form the basis for diseases. The researchers are going to map out the molecular activity in the cell.
The language of story and imagination
Dr. E. (Emar) Maier - Faculteit Wijsbegeerte
One reads the newspaper in a different fashion than a novel. In the case of a newspaper one expects true statements about existing individuals, while with Harry Potter one knows that sorcerers do not exist. In this project philosophers and linguists develop a theory to understand the fundamental difference between stories and common language.
Supervising top-managers: Internal or External?
Dr. F. (Floor) Rink – Faculty of Economics and Business
Nowadays decision-making of top managers is closely supervised. But supervision calls into question who has most influence on the managers: internal or external supervisors.
Getting better with age?
Dr. S. (Susanne) Scheibe - Faculteit Gedrags- & Maatschappijwetenschappen
Increasingly, people need to work longer . how well are they prepared to meet this challenge? In this project scientists will explore how emotional changes with age shape, and are shaped by, work experiences, and whether older workers have emotional strengths that help them be effective at work.
SAMURAI (Steering Acuated Probes for Targeted Interventions)
Prof. dr. S. (Sarthak) Misra - Faculteit Medische Wetenschappen/UMCG
Probes are often being used for diagnostics and for the delivery of medication. These generally fixed instruments often miss their target, which results in complications. SAMURAI will develop flexible, robotically guided probes that can reach difficult locations in the body, thereby improving patient comfort as well as clinical results.
Identity crisis in a failing heart
Dr. G. (Guido) Krenning - Faculteit Medische Wetenschappen/UMCG
Heart failure is caused by cicatrization of the heart. Cells from the blood vessels of the heart contribute to this cicatrization by a change of identity. The researchers have identified a protein that restrains the identity change through blood vessel cells. The researchers are going to look if the activation of this protein can stop heart failure.
Scalable 'big data' methods towards personalized genome diagnostics
Dr. M.A. (Morris) Swertz - Faculteit Medische Wetenschappen/UMCG
New 'NGS' techniques can measure all DNA variations in one time. Unfortunately diagnoses are delayed because genetic-labs drown in all the data produced; in the past only one gen was tested at a time. This project develops patient-oriented techniques to find harmful mutations for 'personalized whole genome' diagnostics in a faster and better way.
| | |
| --- | --- |
| Last modified: | 13 April 2021 11.09 a.m. |