Making great podcasts for the classroom: 'No, you don't just record a lecture.´ (online session)
| | |
| --- | --- |
| When: | Th 02-12-2021 12:00 - 13:00 |
| Where: | online event, session will be held in English |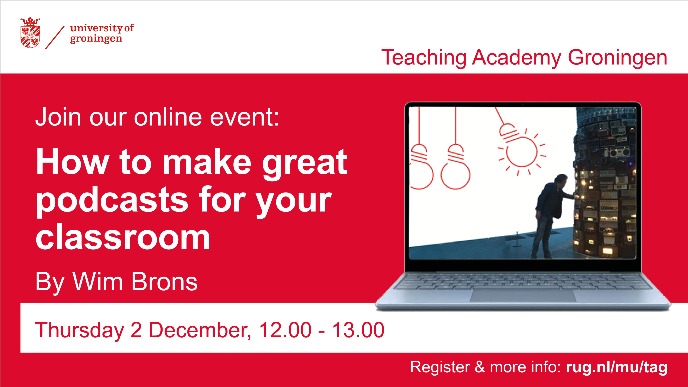 Why should you consider using podcasts for your course? What are the essential elements that you need to know to make a good podcast? How are faculty using podcasts in their classes?
Podcasts are another way to teach content to students digitally. While many lecturers now made video recordings of their classes, podcasts are a different medium that is perfectly suited for passive learning, so that lecturers can focus on active learning during classes. Podcasts are ideal for situations in which visuals are not essential to delivering ideas, for example: short lectures, interviews with individuals with expertise or new perspectives, and other essential information for a course. Plus, they can be much easier to make than a video. From a student´s perspective, podcasts allow listening whenever, engage active thinking better than watching or reading do, and accommodate all learning styles.
In this workshop, Wim Brons, a professional podcast producer, will guide you through the steps and equipment needed to make a good podcast. Additionally, lecturer Gabriela Sobral will share her experience with creating and using podcasts in the classroom.