Information meeting on SURF subsidies for teaching innovation (Stimuleringsregeling Open en Online Onderwijs)
| | |
| --- | --- |
| When: | We 08-09-2021 13:00 - 13:45 |
| Where: | online event, session will be held in English |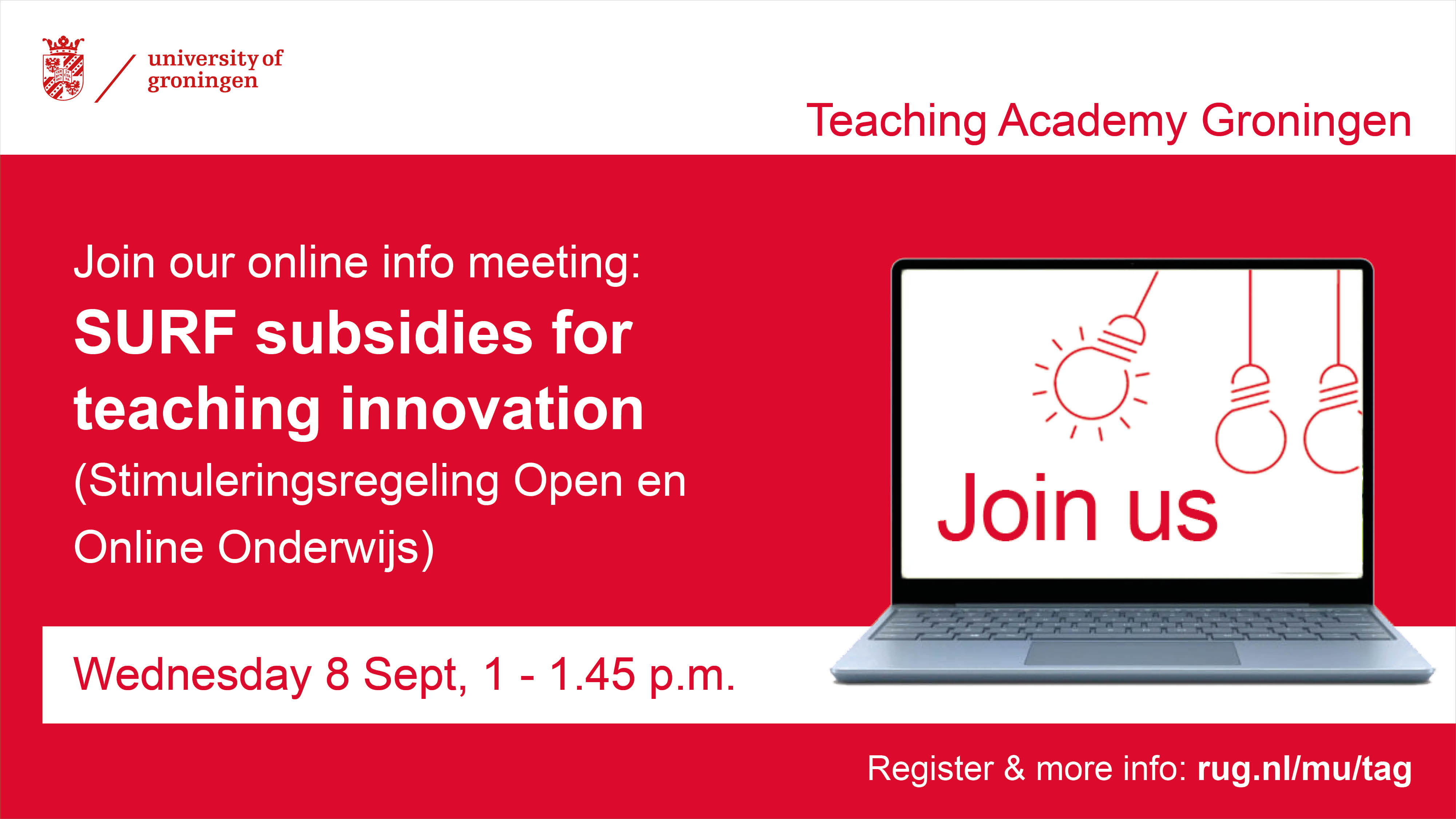 Subsidy schemes grant higher education institutions access to knowledge and allows them to experiment with online applications and to pool high quality learning materials. Are you a teacher facing questions such as: how do I write my application for the Open and Online Education incentive scheme, and what support services are available to me? The Teaching Academy Groningen has organized an information meeting on Wednesday 8 September, from 1–1.45 p.m. about the (SURF). Register here
During our meeting, we will further inform you about this scheme, share the experiences of previous rounds and offer the opportunity to briefly pitch your idea and discuss it with others. For more practical tips, you can visit the SURF webpage, although unfortunately the information is only available in Dutch. The UG places great value on successful applications for this scheme and will therefore provide the teacher with both editorial and secretarial support during the writing and application processes of the project proposal.
The Ministry of Education provides funding for this scheme, which is coordinated by SURF. You can send in a proposal until 15 December 2021. The scheme consists of two pillars: The Online Education pillar challenges participants to enrich teaching with online forms of education. The theme for this year is The Optimal Blend. The Open Educational Resources pillar focuses on the sustainable reuse of open learning materials. Participants are challenged to build up collections of open learning materials together with other teachers that can be reused within the community.
Besides our information meetings, SURF offers some workshops to support participants in the writing process. All important dates can be found below.
| | |
| --- | --- |
| Date | Activity |
| 8 September 2021 | UG Information meeting |
| 2 & 16 September 2021 | SURF - Test your idea meetings |
| 3 & 7 October 2021 | SURF - From idea to project proposal meetings |
| 15 November 2021 | Deadline to submit proposal to corporate control and obtain a signed letter of intent from the Board of the University (CvB) of the UG. |
| 15 December 2021 | Hard deadline proposal to SURF/OCW |