Mission and vision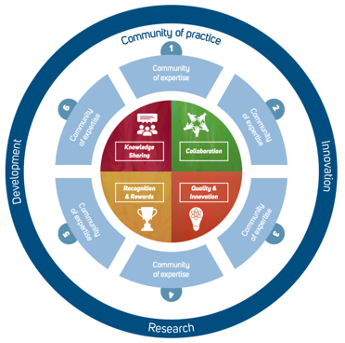 Mission
The TAG aims to be a physical and online Community of Practice that promotes interdisciplinary and interfaculty knowledge exchange and collaboration at the University of Groningen.
For who?
Internally between lecturers, researchers, educational scientists, policy staff, and administrators; externally between alumni, relevant partners and organizations (regional, national, and international).
How?
Collaboration and knowledge exchange
Scholarships and grants
Bottom-up innovations (small-scale pilots)
We bring together various formal and informal initiatives around education and teaching that exist within the university. By forming this Community of Practice, we lead educational innovation and scholarship by promoting, recognizing and supporting teaching and learning excellence.
Vision
The vision of the TAG is as follows:
A Community of Practice that functions as a platform (both physically and online) for exchange of good practices, educational research and knowledge;
Based on continuing professional development and peer support for all stakeholders (both process- and demand-oriented);
Offering lecturers the chance to further development of their interests in relation to educational innovation and/or research, meaning that their developmental activity is transparent and recognized as it contributes to knowledge creation and exchange;
Small-scale experiments (pilots) with innovative methods and concepts;
Effective monitoring, evaluation, and sustainable embedding of pilots and good practices;
Based on research on the effectiveness of educational policy and implementation, accessibility, quality, diversity, innovation, and sustainability in higher education.
| | |
| --- | --- |
| Last modified: | 19 July 2022 5.03 p.m. |