Janssen, Prof. Marleen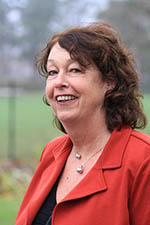 Marleen Janssen studied Orthopedagogy in Utrecht and worked for a long time at the only deafblind school in the Netherlands, Kentalis-Rafaël in Sint-Michielsgestel. In 2003 she gained her PhD at the Radboud University Nijmegen with a thesis on harmonious interactions with the deafblind. She is professor of Orthopedagogy at the University of Groningen, specializing in Congenital and Early-acquired Deafblindness.
Due to a lack of knowledge, many deafblind people in the Netherlands are mistakenly treated as if they can hear and see. This leads to serious emotional and behavioural problems. But there's much to be gained from more research and more knowledge transfer. When they are properly supported, deafblind people can even develop a fully-fledged language. Janssen is the first professor in the world who concentrates specifically on communicating with the deafblind. Since 2007, Janssen has also had a long-term partnership with Koninklijke Kentalis, a specialist in the field of communicative limitations. The Bartimeus Foundation, specialist in the field of visual impairments, has joined forces with them. Janssen is also co-director of the Research Centre on Profound and Multiple Disabilities of the University of Groningen.
Janssen is initiator of the University of Groningen Institute for Deafblindness, dedicated to research and teaching on both congenital and acquired deafblindness. This new, interdisciplinary Groningen-based institute is the first research institute ever to focus exclusively on deafblindness.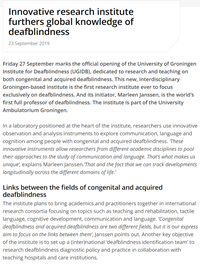 | | |
| --- | --- |
| Last modified: | 11 January 2023 12.18 p.m. |