Alumnus in the United Kingdom: Kevin Olivier
'While I was studying Philosophy at the University of Florida, I went backpacking in Europe. I started in the Netherlands and that's where I spent most of my time. The Netherlands is a fantastic place and the Dutch themselves are socially aware, committed and culturally involved. What's more, I love the language. I always smile when I hear people speaking Dutch.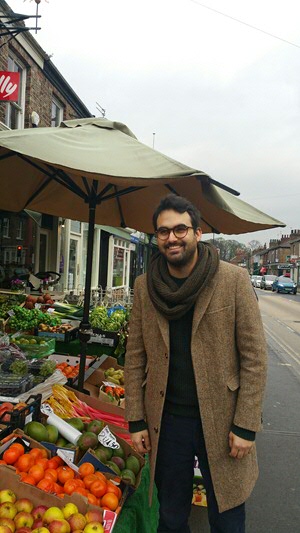 After graduating, I left for Groningen to take a Bachelor's degree programme in International Law, but I soon switched to a Master's programme in Philosophy. As a student, I bought and sold antiquarian books. One of my customers had an email address at Prudential Associates in Rockville. I looked it up and he turned out to be the boss of a private detective agency. I decided to send the man a message and he invited me to meet him the next time I was in the USA. He was a great guy and enthusiastic about me, so despite knowing nothing about detective work, I became a detective.
My favourite tasks are doing background investigations and evidence mining. Trying to find out, on behalf of a company, if an applicant has a criminal record, for example, or if they've sent an honest CV. Although I didn't particularly like this bit, I also investigated people having affairs. If you suspect your husband or wife of having an affair, you can't ask the police to investigate it. It's not a crime, after all. But in many US states, if you want to divorce without losing substantial amounts of money, you need evidence. So I retrieved computer files that had been deleted and found photos, emails or and proof of visits to prostitution sites. I've placed trackers under cars and spent days sitting outside a location in the car waiting for something to happen. It's actually very boring.
For the last two-and-a-half years, I've been working remotely. We moved to Aberdeen in Scotland for my wife's career, and not long ago, we moved to York in England. I log onto my computer in Rockville from the office in my home. They were keen to keep me on board as I can still make a huge contribution to their operation thanks to the latest technology and the enormous database that I've acquired over the years. I have started a thesis on philosophy and last but not least, I'm taking acting lessons in the hope of eventually working as an actor.'
Text: Ellis Ellenbroek
| | |
| --- | --- |
| Last modified: | 19 March 2020 10.58 a.m. |