Online Master's Day
3 april 2020
On Thursday 12 March, the Dutch Government instructed that all events at Universities in the Netherlands be cancelled until 31 March due to the current situation with the coronavirus. In order to ensure the safety and well being of those wishing to attend the scheduled event, the difficult decision has been made to cancel the Master's Day on Friday, March 27th.
We will be organizing an online Master's Day in its place to be held on Friday, April 3rd, between 15:00-17:00.

In order to take part in the Virtual Open Day you will need to register below.
Registration
You will be able to watch online presentations about various Master's degree programmes and in most cases, ask any questions you may have to the relevant staff and students. The presentations will be available after April 3rd for several weeks.
We understand this format is different from an on-site event, but in the current circumstances it should hopefully provide you with something that still allows you to learn about your chosen programme(s).
What to Expect
The online Master's Day is aimed at all postgraduate students who are interested in continuing their academic career at the University of Groningen. It allows you to familiarize yourself with the many programmes offered at the UG, by listening to information sessions and chatting with professors and students from the programmes you are interested in.
Online Master's Day Checklist
1. Ask questions
Don't forget to ask a lot of questions about the programmes you are interested in. You can chat with professors and/or current students and ask them about their personal experiences and what studying is like in Groningen.
2. Make a choice
Once you've gathered all the information you need, it's time to make a well-informed choice. Will your future start in Groningen?
---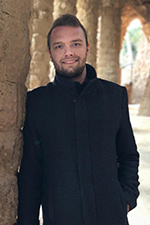 "After completing my Bachelor's degree in Groningen, I was interested in seeing what possibilities the university could offer me on a postgraduate level. While I was interested in several law programmes, I was quite unsure of which one to choose. Talking to professors and students about possible career opportunities and fields of research during the Master's Day really helped me make up my mind and find the right programme for me."
- Asmo Esser, 24, Master of European and Economic Law
---
Questions?
If you have any further questions or want more information regarding the Master's Day, feel free to send an email to the Communications Department via studiekiezers@rug.nl or call us at 003150-3639011.
| | |
| --- | --- |
| Last modified: | 23 March 2020 1.34 p.m. |