Prof. dr. Jaap Top, Faculteit Wiskunde en Natuurwetenschappen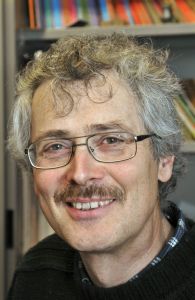 Jaap Top (1960) is hoogleraar Wiskunde, met getaltheorie en algebraïsche meetkunde als leeropdracht. Rode draad in zijn onderzoek is de interactie tussen expliciete en algoritmische methodes enerzijds en de puur wiskundige onderwerpen zoals algebra en getaltheorie anderzijds. Als voornaamste uitdaging ziet hij het bouwen van bruggen tussen theorie en praktijk. Ook zet hij zich actief in om de wiskunde te promoten bij het grote publiek.
De link tussen praktijk en theorie weet Top tevens goed te leggen in zijn colleges. Waar mogelijk betrekt hij de historische context of de hedendaagse realiteit bij de stof, of staat hij stil bij ethische implicaties. Zo stelde hij dat de ontdekking van een zeer goede priemgetalontbinding wellicht niet wereldkundig zou moeten worden gemaakt, vanwege de beveiligingsproblemen voor de bancaire wereld. Zo'n voorbeeld maakt het voor de studenten gemakkelijker de stof tot zich te nemen. Ook zij enthousiaste manier van vertellen motiveert toehoorders en maakt dat ze goed opletten. Tijdens de hoorcolleges wisselt Top de momenten van 'stof overbrengen' af met momenten van rust, waarin hij ook grappen vertelt. Een gunstige omstandigheid is ook dat Top voor veel vakken zelf de syllabi heeft geschreven. Zijn hoorcolleges sluiten daardoor goed aan bij de reader en de vraagstukken tijdens het werkcollege. Top past al naar gelang van de opzet van het vak een schriftelijk tentamen, een mondeling tentamen of een in te leveren verslag toe. Hierdoor sluit de tentaminering prima op de opzet van een vak aan.
| | |
| --- | --- |
| Laatst gewijzigd: | 13 maart 2020 01:25 |