Han Thomas Adriaenssen MA, Faculteit Wijsbegeerte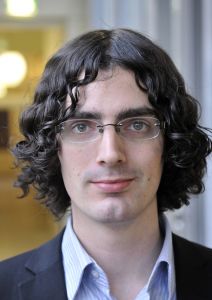 Han Thomas Adriaenssen (1985) is sinds twee jaar werkzaam als promovendus en docent aan Faculteit Wijsbegeerte. Eerder sloot hij twee bacheloropleidingen en twee masteropleidingen telkens cum laude af: filosofie en Italiaans, terwijl hij ook vier jaar Slavische talen studeerde. In 2008 ontving hij een Toptalent-subsidie van NWO.
Het promotieonderzoek van Adriaenssen gaat over sceptische debatten in de Middeleeuwen. Meestal denkt men bij 'scepticisme' (de positie die betwijfelt of we uitgerust zijn om zekere kennis te verwerven) meteen aan Descartes en de vroegmoderne tijd, maar er zijn opvallend veel overeenkomsten met middeleeuwse debatten. Dit gegeven probeert Adriaenssen terug te laten komen in zijn hoor- en werkcolleges: teksten van 700 jaar geleden lijken misschien vreemd en ontoegankelijk, maar wie de moeite neemt preciezer te kijken, komt verrassend veel herkenbaars en interessants tegen. Dat wordt gewaardeerd door studenten, aldus de volgende citaten: 'Hij weet heel boeiend en op een enthousiaste manier te vertellen, hij spreekt duidelijk, hij weet zijn geestdrift over te brengen op de studenten. Hij is heel TOF!' 'Hij weet zijn grote hoeveelheid kennis van zaken op een gestructureerde en humoristische wijze over te brengen. En hij kan uit de meest warrige vraagstellingen of opmerkingen van studenten altijd de kern van het probleem halen en vervolgens beantwoorden.' 'Enthousiast, geniaal, geniaal, geniaal!'
Docent van het jaar verkiezing: Han Thomas Adriaenssen
Gecentreerd, zonder tekstomloop, zonder titel
Maarten van den Ende, student Filosofie aan de Rijksuniversiteit Groningen, over Han Thomas Adriaenssen, kandidaat voor de Docent van het Jaarprijs 2010.
| | |
| --- | --- |
| Laatst gewijzigd: | 13 maart 2020 01:20 |