Teaching Academy Groningen: Workshops with Professor Mick Healey
| | |
| --- | --- |
| When: | Th 09-11-2017 09:00 - 16:45 |
| Where: | Linneausborg/Van Swinderenhuys |
For teachers by teachers. The Teaching Academy Groningen (TAG) is a multidisciplinary academic community that aims to organize and support the dialogue about quality of education, as well as to stimulate the quality and innovation in teaching and learning within the UG. Hence, on Thursday November 9th the University of Groningen Teaching Academy will host two workshops with Professor Mick Healey.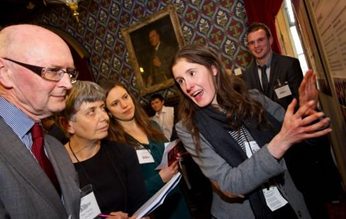 09.00 - 11.30 Workshop "Students as partners" (Linneausborg 5173.0055)
Ways of engaging students in higher education as partners in learning and teaching is arguably one of the most important issues facing higher education in the 21st Century. Partnership is essentially a process for engaging students. It is a way of doing things, rather than an outcome in itself. This workshop will explore four ways in which students may be engaged as partners through: a) Learning, teaching and assessment; b) Subject-based research and inquiry; c) Scholarship of teaching and learning; and d) Curriculum design and pedagogic advice and consultancy
12.30 - 13.15 Reception, coffee (Van Swinderenhuys)
13.15 - 15.45 Workshop "Active and inquiry based learning" (Van Swinderenhuys)
"It is not enough just to do, and neither is it enough just to think. Nor is it enough simply to do and think. Learning from experience must involve linking the doing and the thinking" (Graham Gibbs).
This interactive seminar / workshop explores with participants the meaning of the concept of active learning and discusses a range of ways in which it may be built into lectures, seminars, practicals, fieldwork and other teaching contexts. Emphasis is placed on inquiry-based learning examples.
15.45 - 16.45 Social event (Van Swinderenhuys)
Mick Healey is a HE Consultant and Researcher and Emeritus Professor at the University of Gloucestershire, UK and The Humboldt Distinguished Scholar in Research-Based Learning at McMaster University, Canada. He is renowned for his work on research driven education and linking teaching and research. Since 1995 he has given over 500 educational workshops, seminars, keynotes and conference presentations in 25 countries. He is Inaugural Senior Editor of the International Journal for students as Partners.
Programme
08.45 - 09:00 Reception, coffee (Linneausborg 5173.0055)