Self-Study: Tell Me More
Independent Online Language Learning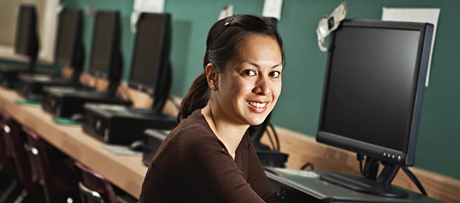 Would you like to learn a language at your own time, whenever and wherever you prefer? The University of Groningen Language Centre offers you
Tell Me More
, an online program.
Tell Me More
is available for the following languages:
- Dutch for non-native speakers
- English (British and American)
- French
- German
- Italian
- Spanish (Spanish and Latin American)
Your Level
Tell me more offers exercises at all levels, for both beginners and advanced students. The first time you open the Tell me more application, a test will be started to assess your level. A programme with exercises will then be compiled for you based on your test results. However, the results of your level test merely serve as an indication, and you can change your level and programme whenever you want.
Content
Once your level has been determined, you can indicate whether you want to focus on professional or everyday language situations. Various themes will then be covered within the chosen context. For example, if you choose a professional situation, you will learn to hold presentations, chair meetings and conduct telephone conversations. In the everyday situation various topics will be covered, such as introducing yourself, booking a holiday and ordering food.
All of the 4 language skills (speaking, listening, reading, writing) will be covered in the exercises. You will be sent a digital progress report every month.
More information about the program can be found on the Tell Me More website. Answers to questions regarding technical information and the installation can be found in the F.A.Q.
Using a Tell Me More account besides a language course
A Tell Me More self study account can of course be used besides one of our language courses, with the advantage that the account can be used after the course to keep working on your language skills.
Compatibility
Please note you will need Adobe Flash Player in order to use Tell Me More. For this reason, Tell Me More will not work on a Macintosh computer.
Registration
Rates
The course fee is € 70.
Would you like to learn more than 1 language? Each additional language costs only € 10.
| | |
| --- | --- |
| Last modified: | December 06, 2013 11:37 |