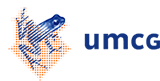 Gerard Koppelman
I graduated as a medical doctor (with honours) at the University of Groningen, the Netherlands in 1996. During my medical studies I was involved in different aspects of medical education: program development in skills teaching, evaluation (development of a teacher feedback system), training of teachers.
In 1997, I started a research project on the genetics of asthma under supervision of Prof Dirkje Postma at the Department of Pulomonology, University Medical Center Groningen, the Netherlands. This project is part of a long standing collaboration with the University of Wake Forest, Winston Salem (prof DA Meyers and Prof ER Bleecker). Within this project, we investigated families of 200 patients with asthma from Beatrixoord, Haren, the Netherlands and performed linkage, association and functional studies. I received my PhD title with honours in 2001.
Between 2001 and 2006, I completed my training in paediatrics. Subsequently I started my fellowship in Pediatric Pulmonology under supervision of prof EJ Duiverman, and work as a pediatric pulmonologist and staff member since 2008.I aim to combine clinical work with performing research on the origin of asthma and atopic disease within the multidisciplinary Groningen Research Insitute for Asthma and COPD
In 2011, I was appointed associate professor professor in pediatrics (tenure track) at the University Medical Center Groningen and coordinator of the GRIAC. I think that communicating progress in medicine in research to the general public is an important aspect of our work. I was co-founder and co-chair of the Medische Publieksacademie UMCG, which aims to inform the general public by organizing lectures, and collaborating with the regional newspaper Dagblad van het Noorden.
Research lines:
Genetics and genomics of asthma and atopy.

We discovered Protocadherin-1 as a novel susceptibility for bronchial hyperresponsiveness and asthma [link persbericht]. Together with the laboratory of Allergy and Lung diseases we are developing mouse models to investigate PCDH1 function in asthma.

Gene-environment interactions

Epigenetic mechanism in allergy (MEDALL)
Epidemiological risk factors for asthma (within the PIAMA study
Functional characterization of novel genes for asthma, such as PCDH1 and IL1RL1. For this work, I received the 2010 International Klosterfrau Award for Childhood Asthma.
Finally, I investigate possibilities to include genetic and genomic approaches in pediatric medicine.
| | |
| --- | --- |
| Last modified: | 22 November 2012 4.09 p.m. |