Gerard te Meerman, PhD
Associate professor in mathematical genetics and bioinformatics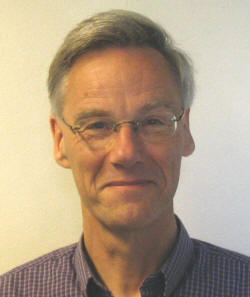 Education
BSc, MSc at University of Twente (1964-1972)
Positions
1981-now: Associate Professor at Dept. of Genetics, University Medical Centre Groningen
1978-1980: Associate expert in science and technology for development at UNESCO
1973-1978: Assistant professor in Philosophy of Science at Radboud University Nijmegen
PhD thesis: Statistical genetics, University of Groningen 1991
See his papers in Google Scholar or in PubMed
Keywords: Statistical analysis of genetic data and expression data; meta-analysis of expression arrays
Current lines of investigation
Integration of high-throughput expression and sequence data into the Oncology workstation (CTMM project with Harry Groen).
Factor analytic modeling of expression data and EQTL mapping (with Lude Franke and Rudolf Fehrmann).
Expression in winter depression (with Fokko Bosker)
Sensitivity and specificity of resequencing for mutation detection. Analysis of resequencing data in Nasonia (with Bert Pannebakker).
Analysis of expression through resequencing in Nasonia (with Rinaldo Bertossa).
Evaluation of a phase-less haplotype sharing test for genetic association (with Andre de Vries).
Whole-genome association study into asthma (with Dirkje Postma and Gerard Koppelman).
Recent papers
van der Zwaag PA, van Tintelen JP, Gerbens F, Jongbloed JD, Boven LG, van der Smagt JJ, van der Roest WP, van Langen IM, Bikker H, Hauer RN, van den Berg MP, Hofstra RM, Te Meerman GJ. Haplotype sharing test maps genes for familial cardiomyopathies. Clin Genet. 2010 May 22. [Epub ahead of print]
de Vries AR, te Meerman GJ. A haplotype sharing method for determining the relative age of SNP alleles. Hum Hered. 2010;69(1):52-9.
Boelens MC, van den Berg A, Fehrmann RS, Geerlings M, de Jong WK, te Meerman GJ, Sietsma H, Timens W, Postma DS, Groen HJ. Current smoking-specific gene expression signature in normal bronchial epithelium is enhanced in squamous cell lung cancer. J Pathol. 2009 Jun;218(2):182-91.
Martens HA, Nolte IM, van der Steege G, Schipper M, Kallenberg CG, Te Meerman GJ, Bijl M. An extensive screen of the HLA region reveals an independent association of HLA class I and class II with susceptibility for systemic lupus erythematosus. Scand J Rheumatol. 2009;38(4):256-62. Erratum in: Scand J Rheumatol. 2009;38(5):401. Bijl, M [added].
Crijns AP, Fehrmann RS, de Jong S, Gerbens F, Meersma GJ, Klip HG, Hollema H, Hofstra RM, te Meerman GJ, de Vries EG, van der Zee AG. Survival-related profile, pathways, and transcription factors in ovarian cancer. PLoS Med. 2009 Feb 3;6(2):e24.
| | |
| --- | --- |
| Laatst gewijzigd: | 26 februari 2013 11:08 |