University of Groningen awards Green Mind Award 2012 for the most sustainable idea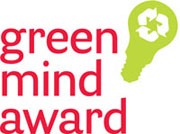 Sustainable projects are nothing new at the University of Groningen – most notably at the Zernike campus. The Health, Safety and Environment department, however, considered that smart sustainable ideas thought up by the very people working, studying, socializing and exercising at the University of Groningen and the UMCG would of course be the ones that would work well, provide the most satisfaction and garner the most support.
The idea is not to have measures imposed by some outside consultancy but to go for 'home-grown' ideas. Given that the few square kilometres that the University covers contain the highest concentration of knowledge and in all Groningen, this of course should not be a problem.
The challenge

Everyone working at the University or the UMCG is challenged to take a good hard look at their own ecological footprint or that of their department or faculty. This in itself perhaps already makes the Award the most sustainable idea of the year.
No half-measures

The Board of the University is enthusiastic about the contest. Ample funding of up to € 100,000 has been provided to execute the idea (towards adapting buildings or work processes, for instance), on the condition that the time it takes to recover these costs is guaranteed, as this can be considered to be 'sustainable' as well.
A great, well-timed plan

Realizing the winning idea fits in nicely with the three major research themes the University of Groningen stands out with in the Netherlands and abroad: Healthy Ageing, Energy and Sustainable Society. It also is perfectly in line with the motto chosen for the 400-year anniversary celebrations in 2014: For Infinity.
The jury will reward the best three ideas with an iPad. And at least one of the novel green projects – the product of a true Groningen 'Green Mind' – will result in a ribbon being cut or a sign announcing a construction project going up during the anniversary celebrations.
More information?
The contest rules and the conditions the idea must meet can be found at:
www.rug.nl/greenmindaward
Contact person: Dick Jager, University of Groningen Health, Safety and Environment department
| | |
| --- | --- |
| Last modified: | September 04, 2012 13:45 |