Jan Kornelis Dijkstra Best Faculty Lecturer 2010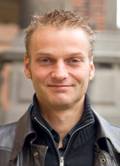 Jan Kornelis Dijkstra, lecturer sociology, has won the best lecturer award 2010 of the faculty of Behavioural and Social Sciences. He will represent the faculty at the university best lecturer award competition on Thursday afternoon 3 February 2011 in the Academy Building.
Jan Kornelis Dijkstra is lecturer Theoretical Sociology. Characteristic of his lectures is the absence of Powerpoint presentations. Students have to pay attention carefully so they won't miss what is written on the blackboard. This is highly appreciated by the jury. Also, students think Jan Kornelis Dijkstra an enthousiastic and inspiring lecturer and value positively his capability to get the discussion going during his lectures.
The jury rewarded Joost Heutink, lecturer Clinical and Developmental Neuropsychology, with an honourable mention. His enthousiasm, clearness and calmness in his verbal and non-verbal communication and his clear expound on complex material is appreciated highly
This year the best lecturer competition at our faculty had a new organizational set-up. After a preliminary election at the three disciplines, six candidates were nominated: Tom Postmes and Joost Heutink of Psychology, Wied Ruijssenaars and Pauline Schreuder of Pedagogy and Educational Sciences and Jan Kornelis Dijkstra and Melinda Mills of Sociology. All students of our faculty were entitled to vote. To let all students become aquianted with the six candidates, very short lectures were taken on video. Approximately 400 votes were given. Apart from the student votes there was an expert jury existing of students with special effort in education, lecturers and a professional educationalist.
| | |
| --- | --- |
| Last modified: | January 09, 2013 08:48 |