"A way out of the crisis", debate with a.o. Spierdijk, Bezemer and Garretsen (Wednesday 10 October)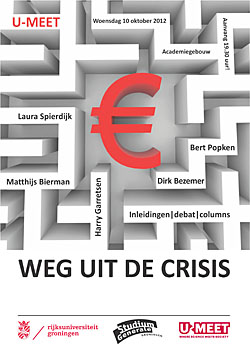 Date: Wednesday 10 October 2012
Time: 19.30-22.00 hrs.
Place: Auditorium, Academy Building, Broerstraat 5, Groningen

We are currently up to our necks in a financial and economic crisis. The million-dollar question is: how are we going to get out of it? The first U-meet to be held at the University of Groningen on Wednesday 10 October 2012 will try to find new solutions to the financial and economic crisis. U-meets are an initiative of the Dutch universities whereby science, politics and social organizations join forces to search for new solutions to problems facing society.


Among the guests at the first U-meet in Groningen will be Matthijs Bierman, director of the Triodos Bank and University of Groningen alumnus of the year. Bierman: 'Waiting for the government to help us out of the current economic and ecological crisis, in hope of a lifeline from The Hague or Brussels, would be a serious mistake. The business sector holds the key to a sustainable future, along with the power of citizens as critical consumers.' Bierman sees powerful initiatives being taken by young entrepreneurs keen to change the way the world is organized. Major companies like Unilever are seriously concerned about the impact they are having on mankind and the environment. According to him, responsible entrepreneurs and enlightened consumers will be the ones who lead us out of this crisis.
Introduction and debate
In addition to Matthijs Bierman, Bert Popken, member of the Executive Board of the Groningen municipal authorities with a portfolio for Spatial Planning & Economic Affairs and Social Affairs & Employment, will enter into discussion with Dirk Bezemer, developmental economist and member of the Sustainable Finance Lab, Laura Spierdijk, Professor of Econometrics carrying out research into reforms in the banking sector, and Harry Garretsen, Professor of International Economics and Business Administration and Dean of the Faculty of Economics and Business at the University of Groningen. There will be a short introduction and debate, with columns by University of Groningen honours students Eline Koopmans and Berend Ritzema, co-authors of the book 'Generatie Crisis. Verder kijken dan #Occupy' (Generation Crisis. Look beyond #Occupy).
| | |
| --- | --- |
| Last modified: | February 08, 2013 14:11 |