Professor Garretsen appointed to Bank Council DNB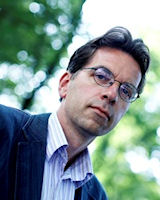 Prof.dr. Harry Garretsen has been appointed as a member of the Bank Council (Bankraad) of the Dutch Central Bank (DNB), as of 15 September. As an independent expert he will advise on monetary affairs.

The Bank Council acts as the Governing Board's sounding board. The President of DNB reports to this body on the general economic and financial developments and on the policies pursued by DNB. The Bank Council can also advise the Governing Board of the Dutch central bank.

Honoured
Harry Garretsen: "I am honoured to have been appointed to the Bank Council. With the financial crisis still unfolding, these are truly "interesting times" to be involved as an advisor to the Dutch central bank. It also pleases me that this reinforces the longstanding and excellent connections between our faculty and DNB. On a more personal note, I take some pride from the fact that I somehow follow in the footsteps of my PhD supervisor, Simon Kuipers, who was also a member of the Bank Council in the past."

Garretsen
Harry Garretsen is currently Dean of the Faculty Economics and Business and Professor of International Economics and Business at the University of Groningen. He studied economics in Groningen and obtained his PhD at the University of Groningen in 1991. He subsequently worked at the Dutch Central bank himself, and became a professor in economics at the Radboud University in Nijmegen and at Utrecht University. Garretsen is a visiting fellow at the University of Cambridge and research fellow at the CESifo institute in Munich. He is also Crown member of the Social and Economic Council (SER) of the Netherlands.
| | |
| --- | --- |
| Last modified: | November 29, 2012 17:11 |